Hidden Magic Presents: Bear Facts Educator of the Issue – November 2022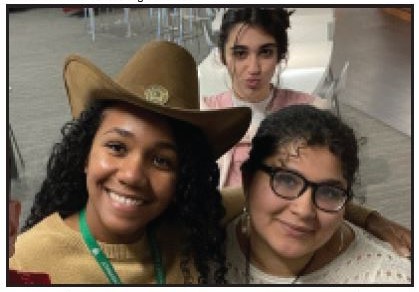 Mrs. Aderlin LaStella
If you were anything like me, you were always confused as to why you constantly received emails from an "Aderlin LaStella", one day you decide to read it- and you were granted with meeting one of the best educators in the building. For the past two years Mrs. LaStella has served as the class of 2023 advisor and we couldn't thank her enough. On top of organizing a fantastic junior prom, and working on an even better senior prom, Mrs. LaStella leaves it all in the classroom for her students.
Serving as an ENL (English as a New Language) teacher Mrs. LaStella wears many hats, and she wears them flawlessly. Mrs. LaStella takes charge in preparing her students and helping them reach their fullest potential and assisting them in graduating high school. Her bilingual talents don't go unnoticed in the classroom, especially as she serves as an advisor for students trying to obtain their seal of bi-literacy. She also sits on the panel to determine deserving students.
I appreciate all that she has done for our community within the school but, I also just appreciate her for being here. I met Mrs. LaStella last year while decorating the junior hallway for Spirit Week, and from that point on, she has been my mentor, friend, and therapist. I find myself going to her for every single problem. Whether it be about friends, family, school, I always tell her my stresses and issues, and she's always there to help me through it. Honestly, if she wasn't in our school, I fear I would've already lost my mind. At this point, she knows me so much better than my ACTUAL therapist. But that's really because I trust her so much. She has helped through a lot of things and with that, no amount of gratitude and thanks I give to her could actually express how much I appreciate her.
When it comes to her work, she is as determined and hardworking as they can get. Last year, when I also joined student government, her main goal was that the Class of 2023 would have a killer Junior prom. I mean, she worked day and night planning the food, venue, decorations, party favors, etc. She had this awesome work ethic because she simply cared about us. She wanted us to have an awesome prom, and she wanted us to have the time of our lives. And honestly, just speaking for myself, mission accomplished because that night was incredible.
Now, with being the advisor for the Class of 2023 once again, she is back in that mindset. So far, we had an amazing western themed Homecoming hallway with REAL hay, a photo booth cutout and props, and not one, but two inflatable mini horses. I mean, does this woman ever sleep? Or is she too busy being a super hero? Again, being in Student Government, I can't give you any spoilers on what we have upcoming for the year, but let me tell you, it's amazing. And it all thanks to Mrs. LaStella.
The super woman of 2023.