Brewster Athletes Break the Sports Mold!
We focus the spotlight on three of our hometown heroes
Over the fall season, Brewster's student athletes have been putting in hard work to balance their dedication to school and sports. As some might say, balance is key. It doesn't matter how much or little work you do as an athlete, it is always a struggle to balance one's practices, games, classwork, and normal everyday tasks like sleeping and eating. Three of our athletes that made it look easy rising to the top of their respective sports were Mia Palladino, Pat Ford, and Maggie Rigano. All three of these student athletes are examples of determination and perseverance in not only their sport, but in their academics.
To start off, Mia Palladino has recently won the girl's tennis Section 1 Championship on October 11, 2022, at Harrison High School. Palladino has been known for her skills on the court after receiving third place in last year's sectionals and sixth place in last season's state tournament. Even with these outstanding accomplishments, Palladino was determined to start her senior year off with a bang, and so she did. With her determination over the off-season, Palladino was able to come out on top on October 11th, becoming the first tennis qualifier in Brewster's History! Palladino was able to reach this victory by training with recent Byram Hills graduate, Alyssa Margolin, who last year won the girl's tennis Section 1 Championship. During their training sessions, Palladino describes Margolin as being an amazing inspiration and influence on her tennis journey to success. On the nerve-wrecking day, Palladino was able to pull off a win in the first set of the game, 6-3, against Bronxville's junior, Victoria McEnroe. Later, in the second set, Palladino was so close in pulling off another win against McEnroe. However, her opponent was able to grab this win in the second set with a score of 5-7. While taking a brief break before the third set, Palladino reset and thought about how losing wasn't an option for her. After boosting herself with confidence, she reappeared on the court and shocked the entire crowd with her close battle against McEnroe, resulting in a 6-4 win for Palladino. This exciting day for Mia Palladino was only the start of an amazing career for Brewster's outstanding student athlete.
In addition to Brewster's athletic success, Brewster's Cross Country and Track star, Pat Ford, won the Bob Pratt Invitational at Sunken Meadow State Park in Long Island on September 17, 2022. On this day, Ford received the fastest time, 16:51, of the day among 35+ teams at the invitational. To exceed such high standards, Ford comments that, "[He] was coming off a great summer of training." This included the Stroudsburg XC camp that he attended in the summer with his team, where he ended up running 10 miles daily. Even though he increased his stamina over the summer break, Ford became more focused once the fall season started. He gained the endurance he needed by implementing specific speed workouts into his everyday training. This training combined with his increase in stamina from over the summer break lead him to victory, the day of the 17th. The original love for Cross Country and Track came from his dad. Ford explained that "[His] dad would take [him] along when [his dad] went on runs, and [he] sorta picked it up from there." Ford's passion for running blossomed from the time spent with his dad when he was younger. During the 7th grade, running became more serious for Ford. After realizing he broke 5 minutes in a mile was when he started envisioning his future, qualifying to compete at a sectional and state level. Till this day, Ford always thinks about his team while he is running, knowing he can't let them down and that he won't. His determination throughout his running career has made him the outstanding student athlete today. Brewster is very proud of Pat and wishes him well moving forward!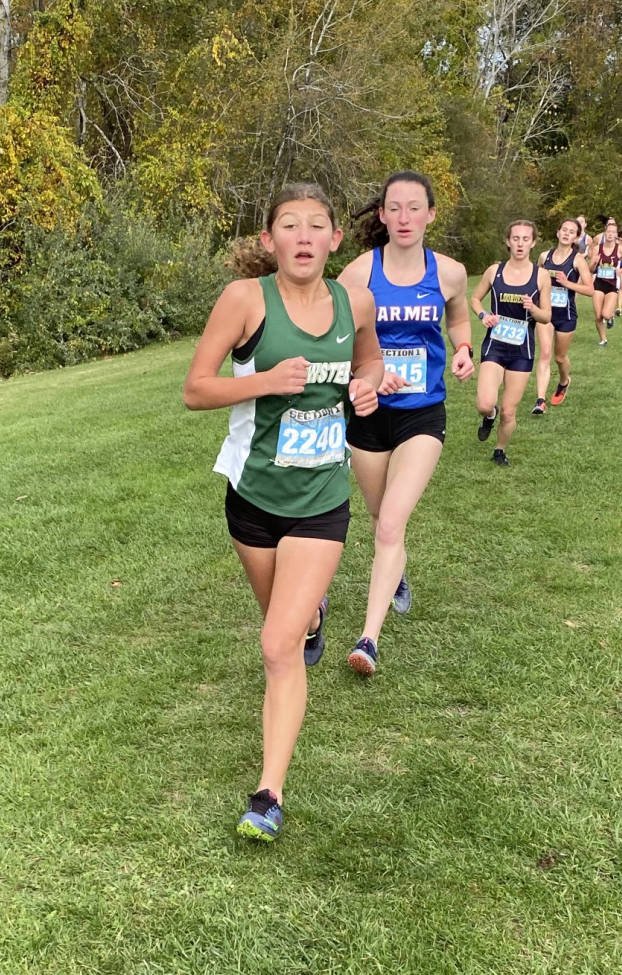 Ending this fall season off on a good note is Maggie Rigano. Rigano is a runner for Cross Country and Track, and has been working hard as a student athlete. When racing during the 2022 season, Rigano has been training hard, which eventually paid off as she keeps climbing the ladder to success. Regarding this past season, Rigano has been to three meets, all of which shows her determination and dedication to the sport she loves. First on the list is the Bob Pratt Invitational. As a result of this race, Rigano received a time of 20.52, earning 20th place out of 79 other young women. Next, was the Pearl River meet in Milton, Connecticut. Here, she got a time of 20.52, receiving 14th place out of 81 other runners. Lastly, Rigano was able to end her fall season by obtaining a time of 20.54 at the Brewster Bear Classic 5K meet, coming on top in 7th place. Rigano's results, over the past month or two, have illustrated her perseverance in achieving her goals involving Cross Country and Track. Rigano's roots of determination came from when she first started to run in the eighth grade. She claims that her teammates encouraged her and continued to make the sport a more pleasant experience for her. As she continued with track into her freshman year of high school, Rigano became more serious about her future in running as she had a better understanding of not only the sport, but what it finally meant to join a family. A sport, such as track, has given Rigano a place to feel comfortable, and at home with a team full of good culture and positivity. Even though as a sophomore her journey has just begun, Rigano has proven to not only her classmates, but the entire Brewster community, that it is possible to achieve any goals set for one's self, as long as they put the work in.
All in all, Brewster is ecstatic with their student athletes (Mia's, Pat's, and Maggie's) accomplishments throughout the fall season of 2022. They proved that one is able to balance a school workload as well as hectic sports and everyday schedules. Proud doesn't even come close to describing how our school feels about these amazing individuals, and Brewster hopes that all of their goals and dreams are achieved in the future.
Way to go Brewster's athletes!