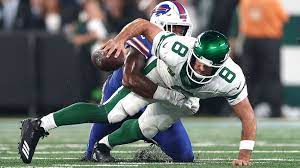 The NFLPA (National Football League Players Association) has recently called for the complete removal of turf fields from the NFL due to increased injury rates during its use. Although on the surface such claims may seem as artificial as the turf that 17 NFL play their home games on, it's important to look back at why these claims are coming to fruition and answer the following: Should the NFL (and other sports) consider switching back to grass fields?
Historically speaking, grass fields have been used as the main playing field for outdoor sports. From soccer to baseball, polo and lacrosse, grass fields are still commonplace in many sports. However, some issues do lie with the usage of natural grass. For example, the cost of up keeping grass pitches/playing fields that experience regular use is near impossible to upkeep without heavy costs and funding. From exposure to the natural elements, to general wear and tear from usage, grass fields, if well-kept, can be pricey. An alternative had to be found in order to save costs.
With its usage starting in the early to mid 1960s, turf (also known as AstroTurf) was originally meant to keep a pristine front lawn outside of houses in suburbia, no matter the weather conditions. In 1966, however, the Houston Astros used such a surface in order to upkeep a playable ground in their indoor stadium without natural sunlight. After gaining much popularity, many professional sports teams and stadiums began to use such surfaces for its affordability, ability to withstand weather conditions, and modernistic appearance. Despite being used for many years, many questions are starting to arise regarding the usage of artificial turf, especially in professional sports.
To put it into simpler terms, it's important to understand one thing: sports place a lot of stress on one's body. From pushing, twisting, shoving, running, jumping, etc., it is important that a playing surface is able to absorb the force created by an athlete, otherwise such force will be more absorbed by the body, placing more physical stress on it. While grass can act as a soft pillow, turf acts as a carpet. Although a carpet can absorb more force than say a concrete slab, athletes (and many others) would rather land on a soft, pillowy surface. The same applies to the body's joints, tendons, and ligaments preferring the use of grass over turf.
With the torn Achilles of Aaron Rodgers in his debut with the New York Jets (on turf) bringing further attention to the ethics and logistics of using artificial turf, it is important to address one question: Should the NFL, along with sports organizations, consider getting rid of it?
The answer is complicated.
According to NHLPA president JC Trotter, the usage of artificial turf is a present danger to NFL players whose "occupation is dangerous enough," from its dangerous levels of contact, collisions, and general vulnerability to severe injuries.
And the numbers do provide backing for this claim as well. According to the NHLPA, turf fields can drastically increase injury rate, with the higher line in the accompanying graph representing injury rate on artificial turf, while the lower line represents injury rate on natural grass fields in NFL games.
On the other hand, the reason why artificial turf is still used is due to its original intent: to provide a cost-effective and convenient playing surface. Artificial turf, in comparison to naturally kept grass, is much better able to withstand mass use. This is a key reason why many high school and college programs, along with multi-use stadiums, use artificial turf. Within lower-level fields of play, the argument for turf does hold some ground, as it is very much an affordable and readily available surface for use. However, it is still important to note how it increases injury rates in sporting events.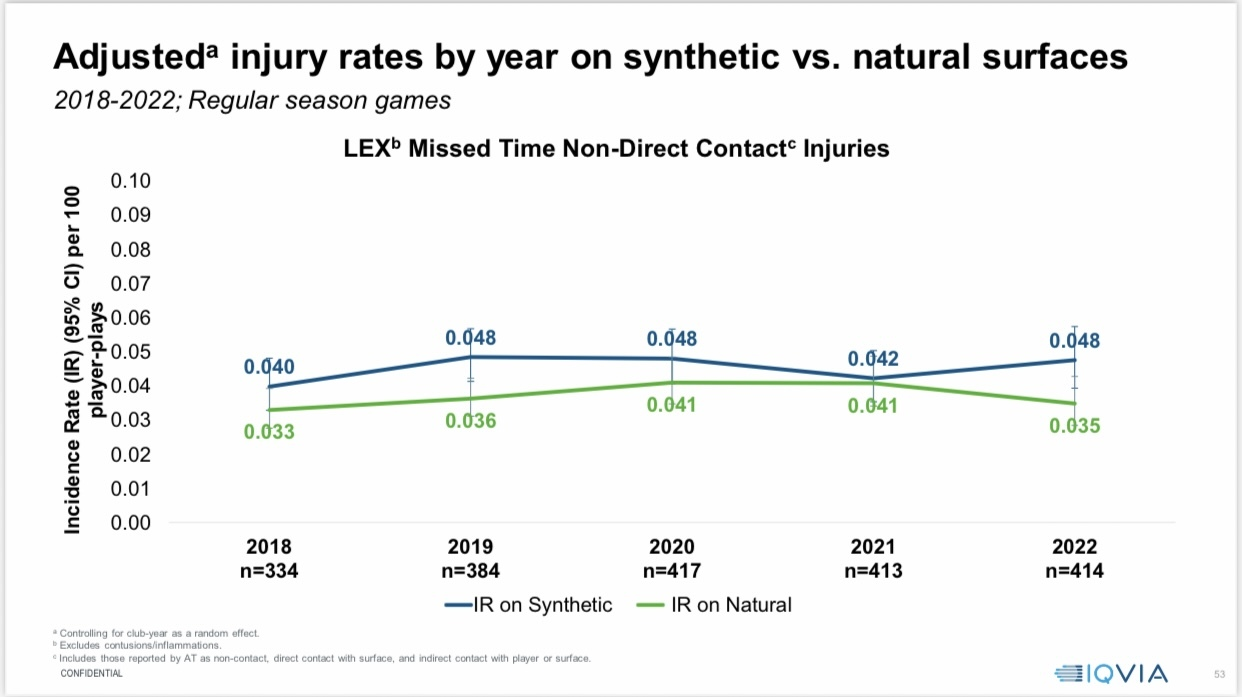 From the NFL, NCAA, to the NYSPHSAA, we only have time to wait to find out what action may or may not be taken in the future for the playing grounds in sports. Whatever the decision, we hope it benefits the players.