Farewell, Alex. Hello Nightmare Triplets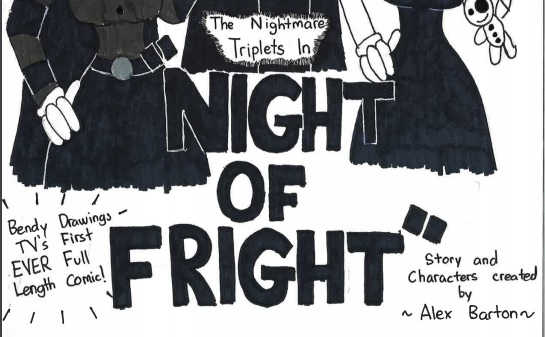 Alex Barton is a graduating senior who will be leaving us in June. He's been a steady participant in Bear Facts for the last few years, regularly submitting his comics for its readers to enjoy. His prime influence is Charles Schultz, the artist of Peanuts, arguably the greatest comic strip of all time.
"Night of Fright" is Alex's first ever full length comic/graphic novel. It's dark, bold, and unique, while also drawing a lot of inspiration from the Bendy universe.
As a lover of dark humor, I thoroughly enjoyed this comic. It's honestly impressive that the creator did this all by himself, and in his last year of high school, a notoriously stressful year.
The Nightmare Triplets are three sisters living in the Realm of Darkness, on the outskirts of Toonsville. Melancholia, Psychopath, and Sociopath (pictured right) all have their own unique characteristics and personalities. All of their names represent a mental illness: melancholic depression, psychopathy and sociopathy, all of which fall under antisocial personality disorder (ASPD). Psychopathy and sociopathy are actually clinically used interchangeably, although usually they are used to differentiate the severity of their symptoms. The Nightmare Triplets exhibit behavior reflecting the mental illnesses they represent. Melancholia is seen expressi
ng her sad nature on the very first page. Psychopath was seen brooding before snatching Melancholia's doll away from her. One thing I have to point out is how spot on all the expressions of the characters are. It's difficult making a 2D character so emotional, but Alex managed to do it. Sociopath was the most interesting character in my opinion. Her quiet nature didn't stop her from demonstrating her authority in the family. I loved Sociopath's crow and would even like to see a comic featuring the pets of the house, her crow and Psychopath's pet Cobra, Schizophrenia.
As a debut comic it's exceedingly impressive and I for one know how hard it is to craft a story, let alone one filled with hand-drawn art. I wish Alex good luck and implore him to never give up on his dreams, even if it just becomes something he does in his spare time.
Want a free copy of Alex's first graphic novel? Download your copy here!