The Retirees are Coming! The Retirees are Coming!
As Some of Us Just Said Hello, Others are Saying Goodbye!
It was a long journey to get there, but now these teachers can reap the rewards of a full and satisfying career. Having put in their years, and now paperwork, these retirees can kick back, relax, and pursue their hobbies and passions. Before they left, we had the privilege of interviewing these distinguished individuals.
Every Day an Adventure: Commander Earl Waidelich and His Passion for Life
As Interviewed by Clarissa Cuomo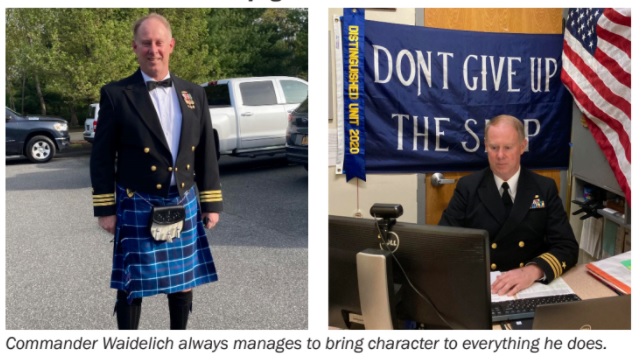 What inspired you to teach?
Prior to teaching, I spent 24 years in the Navy, which meant for me moving around a lot — on average every two years. So as the time approached, I started considering what I wanted to do and a consideration was NOT having to move as much. Moving to an NJROTC position seemed to fit the bill, combining my Navy experience, with an occupation that did not require me to wear a tie and sit in a cubicle (not my thing). Everything came together here at Brewster, and I came to really enjoy working with the students every day — seeing their successes and helping them through the difficult moments. I have now lived here longer than anywhere in my life, and it will be a big adjustment for me to move on to the next phase!
After high school, I went on to college at East Stroudsburg University in PA. I graduated, knowing I didn't want to work in the field of my major (ironically that was Education), but that I did want to travel — a lot. This was during Reagan's military build up years and the Navy was recruiting for Officers and promised that if I joined, I would see the world. They sure delivered! 10 overseas deployments and 24 years later it was time for me to move on — and I landed in Brewster.
Your initial position in Brewster?
The same as it is currently. The Navy (who sponsors NJROTC), requires the officer to be the Senior Naval Science Instructor, and as such, that is where I started and remain through today.
Highlights in your career?
In this career it has been watching students when they hit that "aha" moment and the light switches on. That seems to happen for a random student every day. Makes you feel good when you head out the door each night.
What will you miss the most?
Watching for the "aha" moments: that really makes my day. Least is DEFINITELY the bureaucracy — I hate filling out multiple pieces of paper that say the same thing to meet someone else's administrative requirements.
What have you learned from the students?
I have worked out for myself that staying young requires effort and desire! To connect with each other, and I mean older and younger folks, requires each to LISTEN to each other. You don't have to always agree, but you have to try and hear what the other person is saying.
Advice for incoming teachers?
If at all possible, do something else before you start teaching. You need to add a little salt to the recipe of a good teacher. This is not possible for everyone for any number of reasons, and there are many really excellent teachers who go right from school to education, but having another career is something I had to do.
What's something we don't know about you?
I was considered a surfer dude while growing up and lived at the beach, hair down to my shoulders.
What's one place everyone should visit?
Tough one — but I'd say Cradle Mountain, Tasmania. It's a trek just to get there. The environmental lodge in the park is a "Dark Skies" area and at night the night skies are amazing. The wildlife is abundant and the Tasmanian Devils (who really are cranky) just wander around like they own the place. For uniqueness, Hong Kong and Istanbul are close behind.
What are your retirement plans?
For retirement, my wife and I are throwing a tent in the truck and heading west. We are going to spend the fall camping from South Dakota, down the spine of the Rockies to Sedona, Arizona. On the way back, we are stopping in Nashville, TN for the music scene. After that? The world is my oyster.
Bear Facts thanks Commander for his service, dedication, and "salt" that he brought to his time here!
Laughter and Learning: Sra. Carretero's Connection to Students, in Class and Out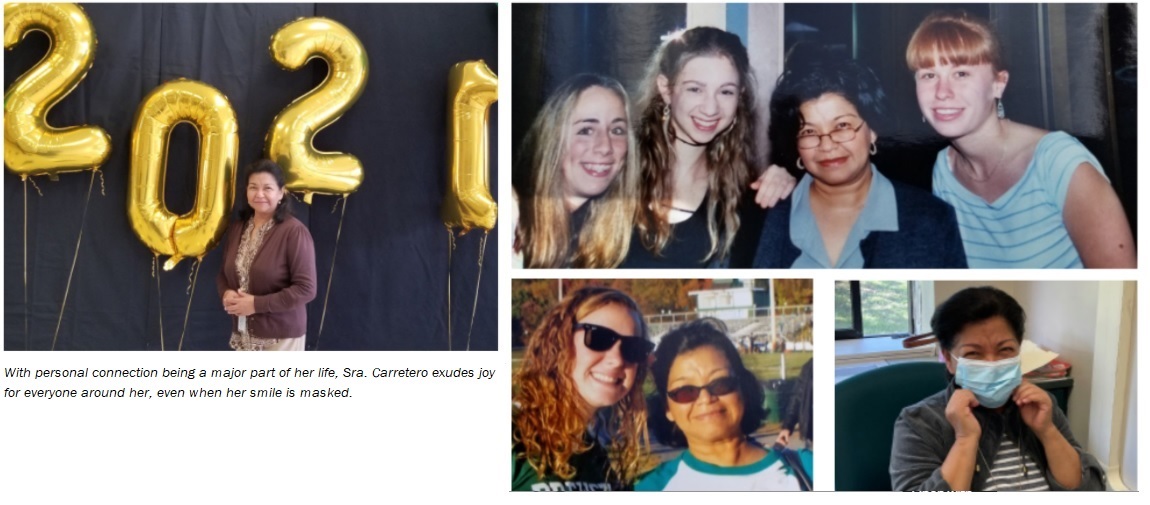 As Interviewed by Hayden Carruth and Averill Downey
Why did you become a teacher and how did you arrive at Brewster?
I have always wanted to be a teacher since I was very young. I enjoyed helping my brothers and sisters with their schoolwork, and I loved school. I enjoyed school, yes.
I had jobs while I was in college, so I didn't really enjoy the college life because I had to work right after the morning classes. I would choose my morning classes and then go to work. I worked in a catholic school, a private school in Yonkers, and I loved it! It was like a second home to me. I first started in my old high school- I taught in my old high school. And I really enjoyed it. I started teaching at Brewster as a Spanish teacher and I have always been a Spanish teacher. When I first started here, I taught in the middle school and the high school- my first year here I was in the middle school and the high school. It was really nice because then the students that came up here already knew me.
What are some of your teaching highlights?
Looking back, I really enjoyed taking part in whatever activities the students had after school. (We did have a Spanish club here for some years.) Just being a part of what the students put together for their after school activities. I liked the participation in class and that so many of them continued studying Spanish. Every day was different here and every year was different.
What was your favorite part working here?
I think just laughing with the students, just laughing…just enjoying whenever there was a conversation that came up in the classroom. Like I always said, the students keep me young. They always taught me whatever new words were in the language… the music- anything new I knew about it because of the students.
Something you learned from students?
Yes, yes, yes. I also learned from them to be patient with myself because I was always very… how should I say… I guess demanding, strict. The students would say, 'Don't worry about it!' Yes, tense about making a mistake and the students, they showed that they cared about how I was feeling, and they made me feel more comfortable because they would say, 'You know, we all make mistakes,' things like that. The students taught me to be more relaxed and at ease. I was always putting a lot of pressure on myself, because that's how I grew up.
What advice would you give to someone who just started working at Brewster schools?
They had asked us that at the Board of Ed meeting, and I said to take part in as many events as possible with the students, to meet them outside of the classroom, get to know them outside of the classroom.
A place I would recommend that everyone has to visit in their lifetime…I know the students all like to go to Europe, but I have enjoyed my trips to Europe- Italy and Spain, and Puerto Rico I have also visited. I would say I would like the students to be able to travel to countries near the United States in this hemisphere to get to know the neighbors better.
What does retirement look like for you?
At this point, I do not have any hopes or plans for my retirement. No, the only thing I've thought about was seeing what charitable organizations there are that I can volunteer to help out. I would just like the students to know that I was very happy. I am very glad that I moved up here and was able to experience and work with students up north in Brewster.
Bear Facts thanks Sra. Carretero for so many moments of connection and kindness, both in and out of the classroom, and we hope that every new adventure in her retirement is filled with learning and laughter!
Cultured and Worldly: Traveling the World and a Career with Mrs. Lieval
As Interviewed by Diana Vink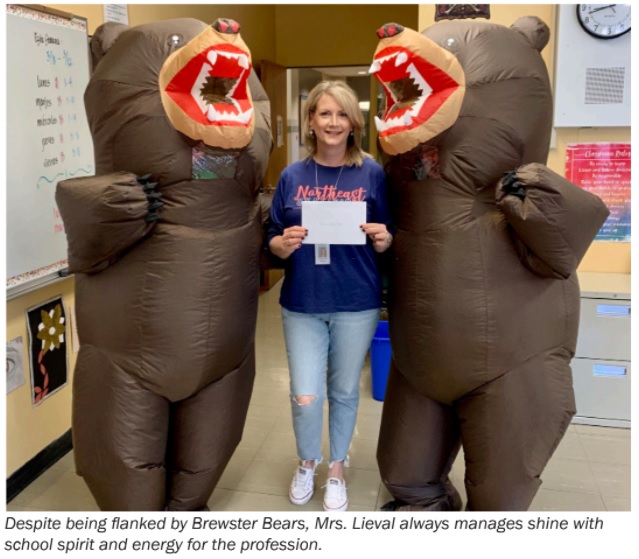 What brought you to teaching?
Originally, my goal in life was to be an adolescent psychologist, and I minored in adolescent psychology. However, I also had a real love and passion for the Spanish language and thought if I could teach Spanish and spread the passion that I have for language, I might be able to guide students at the same time. It was a little bit of both of my dreams.
How did you find your way to Brewster?
As for my career path before coming to Brewster, there was none. I graduated college in May of 1988 and went to my brother's high school graduation, and the principal there had been my guidance counselor in high school. At the ceremony I asked if he was retiring, and it turned out he was becoming the principal. I jokingly asked if they were in need of a Spanish teacher, and funnily enough, they were. I went through the interview process because it was a humbling and good thing to do, but I owe it to Mr. George Cohen because he believed in me and hired me.
What are some highlights from being here?
The highlights definitely are the half a dozen times I took students abroad to visit both Spain and France. Those are memories I will always cherish and remember: seeing students' faces the first time they see el Prado or walk la Rambla. That's just something you can't get in the classroom. I'll never forget giving high school students that opportunity.
What won't you miss?
I'm sure this is a common answer, but I won't miss the early mornings. I commute from Tarrytown, and because I'm a perfectionist I get up at 4:30 AM to start my work day at 6, and that was my decision, but I won't miss it. I will miss all of the colleagues with whom I've developed great friendships. [Interviewer's note: during this interview, Mrs. Cole happened to run into us, and I can confirm that Mrs. Lieval and Mrs. Cole spent several minutes sharing stories about their kids and catching up!] But most of all, I'm going to miss being with my students in the classroom and the camaraderie we develop. I'll miss guiding students, I'll miss teaching them, I'll miss inspiring them. I'll miss their smiles greeting me every day. I came into this profession wanting to work with teenagers, and they're the nucleus of why I'm here.
What have you learned from your students?
Students keep reminding me that we're all just people… nobody's higher than anybody, nobody's lower than anybody. They've taught me to remain positive, to remain hopeful in a world that's so dark. I say that I want to inspire them, but really they inspire me every day. Teenagers get such a bad rep, but I have been so fortunate to meet so many teenagers who are going to be the ones doing the inspiring, and I am always in awe of them.
What advice could you give to new teachers?
For those who are just getting into teaching, the number one thing that comes to mind is this: please don't go into teaching if you do not enjoy working with children. Teaching is really a craft, and I read somewhere once that it takes about seven years for a teacher to really come into their own, and I find that to be really true. In my first few years teaching, I loved the craft, but it wasn't until a few years later that I really came into my own. I would advise teachers to be patient, to be open and flexible with students, and to ask for help when they need it. Don't be a person who says 'I'm in charge, now do what I say;' I've always been a fan of shared decision making.
What's something that most people wouldn't know about you?
That I have held many jobs during high school and college. I've worked at a stationery/toy store, a video store (those aren't that obsolete!), and I've even worked for a chiropractor and a dermatologist.
Where is somewhere everyone should visit?
I have to go with Barcelona. I'm well-traveled, but in my heart, Barcelona just remains the most special place. The people, the culture, the food, just the vibe there; it's a place I feel everyone should experience. Walking la Rambla, visiting the shops, going to the cafes, the Picasso museum, the Boqueria… the list goes on and on. It's just an amazing city with amazing people.
And what does retirement look like for you?
What I'd like to do in my retirement…(I'm so glad you didn't ask about my favorite movie. For some reason I thought you were going to ask about my favorite movie, and I've been sitting here stressing about what my favorite movie is). A couple of things: one, I really want to enjoy time with my family. I think that's a given. Most people know that I have a young teenage daughter (she's a junior), and she plays on a national volleyball team, so we're always traveling (in fact, I'm going to Boston next week), and it'll be nice to travel without worrying about taking time off. I want to travel a lot. In fact, I'm meeting a friend from San Diego in Sedona in September to celebrate my retirement. I'm going to sub in the Sleepy Hollow school district to keep my foot in the classroom, because I love being with teenagers. I'm looking into organizations that I can volunteer with to guide teenagers in their community service experiences, like Habitat for Humanity. I always want to work with teenagers, even after retirement, so I'm sure that I'll be doing something with them forever.
Bear Facts loves that Mrs. Lieval isn't stepping too far away from the classroom, as she is clearly a great influence on children. We wish her a travel-filled retirement complete with rich experiences!
Just Listen and Bee Yourself – A Fond Farewell to Mr. Leonard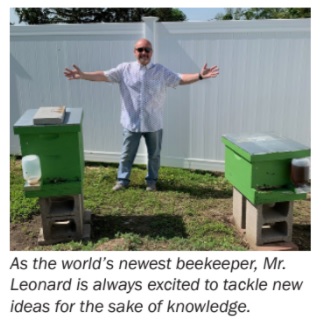 In the summer of 1989, Mr. Leonard started dating a beautiful woman who worked for NYU. He went to a dinner party with her and met the gentleman who was the head of their Science Education department. Mr. Leonard was asked what he did for a living, and he explained his job to him. "He said I did such a good job at explaining things that I should think about becoming a teacher." So he enrolled that summer in their Science Education program. He took a full class load at night and met many teachers from NYC, finished his masters in a year, and began teaching that following September in NYC. "I have never regretted that decision. Oh, and I ended up marrying that woman, and we are still happily married."
He graduated from Iona College with a BS degree in Biology and took a position in a company that made dairy products for chain grocery stores in the northeast. He started out as a lab technician and within a couple of years became the manager of their quality control laboratory. "I absolutely loved my job and learned a lot about how science and business are blended in the real world."
After receiving his masters, he left that position and started teaching at a school called the School of the Future in NYC. He taught Biology there for eight years before coming to BHS and started out as a Biology teacher sharing a classroom and office with Maureen Vrana and Robin Kosloff (Welch).
About 12 years ago, when Biology was moved to H.H. Wells, he was asked to design an Environmental Studies elective at the high school. It very quickly became popular with the seniors, and he has been teaching that elective since. He has also enjoyed being Science Liaison for the last 6 years. "The science department is a great department. All of the teachers are true professionals who really care about their students and each other."
When asked what he will miss the most here, he mentioned all of his interactions with his students over the years. "I truly enjoyed getting to know my students as real people, not just a name on a roster. I will miss my colleagues. You can really get to know people when you work with them every day." In his time here, he learned that everyone is an individual who has the right to learn and to express what they have learned differently. "It is not about how well someone does on a standardized test, it is about how a person can truly express what they have learned."
For those just starting out in education or here at BHS, he would tell them to be open to honest self-reflection. "I have constantly said to myself, 'what went right and what went wrong?' after a lesson. If I need to change something – do it and see how it works." He would also recommend that they really get to know their students. "Say good morning to them as they enter your classroom. Tell them to have a great day when they leave. The more you know your students the better your classroom environment will be." He would also ask his students their opinion as to how things were going. "In class I would give out monthly reflections. One of the things I would ask is 'what worked for you and what did not work for you?' The students that took the question seriously gave me some great ideas for improvement." He would also ask them at the end of the year their opinions as to how to make the course more real but enjoyable at the same time. "I received some great ideas that I still use today. And lastly, be PATIENT."
Something that BHS students might not know about him is that last year, he started raising honey bees. "I currently have 2 hives. Next year – chickens!"
One place that he thinks everyone should visit, is "a place that brings people peace. Watch a sunrise or a sunset, go for a hike and look at the views, go to the beach and listen to the sounds of the waves. Go anywhere in nature that brings you calmness. Reflect upon nature and bring some tranquility into your life."
As for his retirement, initially he will just decompress for a while, "and then just take it one day at a time."
Bear Facts thanks Mr. Leonard for listening closely to his students over the years, and we wish him an enjoyable retirement filled with tranquility and honey!
Mrs. Shirley Ciotola Really Wishes You a Safe Future – A Grateful School Says Goodbye to the One Who Always Put Us Back Together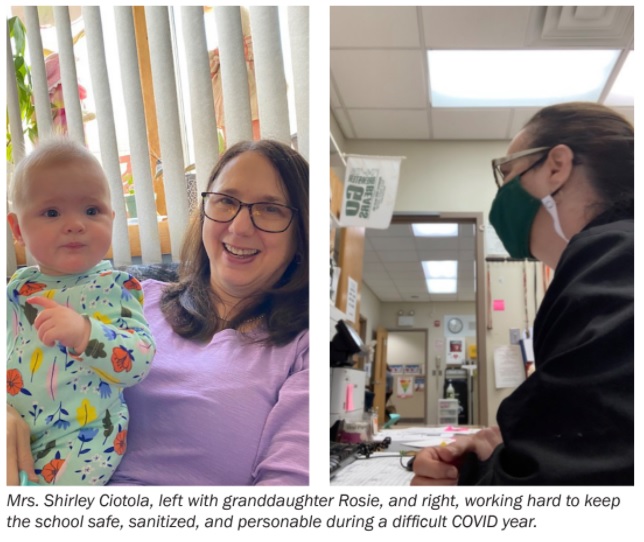 After realizing how much she enjoyed helping the nuns care for cancer patients in the Rosary Hill Home near her hometown in Hawthorne, NY., Mrs. Shirley Ciotola decided to become a nurse.
Shortly after, in November 1975 when she was hired at White Plains Hospital after graduating from the Grasslands School of Practical Nursing in Valhalla, NY, her nursing career began. While in the hospital, she worked nights, evenings, and eventually the day shift. "I worked on the Medical/Surgical floors, Baby Nursery and then the ICU Step Down Unit." After her third child was born, she left nursing briefly to become a full-time mom for 10 years.
In 1998, she was hired in the Brewster School District with her first position as substitute nurse, eventually transitioning over to full-time nurse in 2002, and had the honor of opening the new Nurse's Office that year.
When asked what the highlights of her nursing career were, she talked all about the people with whom she worked. "(It was) providing comfort to patients in the hospital, caring for disabled children in their homes, and working every day in the high school." Working closely with the New York Blood Center in setting up record-setting donation drives, she discussed her enjoyment of those successes. "I especially loved bringing in the New York Blood Center so students could learn about the importance of blood donation and provide them a chance to give the gift of life at our fall and spring blood drives."
Of all the things she enjoyed here in Brewster, the things she said she'll miss the most are, "the day-to-day happenings in the Nurse's Office, working and laughing with staff, and especially my awesome co-worker Terri-Ann Lisa." Being in her position gave her a vital and pivotal role during the COVID pandemic, adding tremendous routines and practices to her daily schedule over the past year. So, it was no surprise to hear that, "the thing I will miss the least is the Pandemic Protocol!"
Always warm and one who easily connected to anyone who entered, Mrs. Ciotola, in all that she'd learned from her time here, mentioned that, "What I have learned from our students is that it takes more than a Band-Aid to fix what is ailing them sometimes. This school year was certainly atypical and the students were very understanding that we had to do things much differently to keep everyone safe." So it would make sense to hear that for those who are starting off as a school nurse, "My advice is to enjoy the students every day, to not take things personally when those days arrive, and not to sweat the small stuff." Wise words, indeed.
So what does retirement look like for Mrs. Ciotola? Travel sounds like one of her first of many plans. "My hope is for my husband and I to travel to Italy soon and to revisit Hawaii. (Everyone should visit) Hawaii. I visited Oahu and loved the beaches, culture, beautiful flowers, and the food. On my next visit to Hawaii, I would like to cruise to some of the islands!"
And human connection will, as always, remain a major part of her life. "During my retirement I plan to spend more time with my family and friends… I love to cook, bake, work in my garden, crochet, and visit my family, especially my grandchild, Rosie."
After a year like these last two, travel, hobbies, and family are a welcome respite for the ever-busy and forever-caring Mrs. Ciotola.
Bear Facts wishes Mrs. Ciotola a retirement filled with family, friends, travel, and of course, Band-Aids (but not too many).