Model UN Travels through Time and New York City with Latest Conference
On January 20, members of Brewster's Model United Nations club attended the Columbia University Model UN Conference and Exhibition. CMUNCE, known as America's premier Model UN conference for crisis committees, attracts high school students from over 60 countries. While most delegates who attend are from private high schools, Brewster High School students have taken pride in being one of the few public schools represented at CMUNCE.
To kick off the conference, delegates attended Opening Ceremonies at Riverside Church, where they listened to keynote speaker, Vadim Perfiliev. Perfiliev is the former Director of the UN Secretariat of the General Assembly and Russian Diplomat. He writes for several magazines based in Moscow and often appears on talk shows held in New York. Perfiliev informed students of his former responsibilities as a member of the United Nations Secretariat and a diplomat.
After Opening Ceremonies, delegates headed to their first committee session. The conference spanned four days, during which students debated and responded to crises within their committees. Brewster students participated in a variety of committees, including the Green Corn Rebellion, Canadian Maple Syrup, Queen Elizabeth the I's Counselors, the Turkish Succession Crisis, and the Puerto Rican Nationalist Party. Because all of CMUNCE's committees are crisis based, delegates had the responsibility of responding to different challenges and obstacles in a timely fashion through secretive notes and group directives.
"I had so much fun at CMUNCE! Especially this time in my committee, working to secure a successor for President Erdogan in 2030," shared Akshay Gupta, Director of Technology for Brewster's Model UN club. "Throughout the conference, I was able to apply my interests and knowledge of technology to sabotage polls, educate immigrants and citizens, build a robot army, and help my friend rebuild the Ottoman Empire to take over Turkey. It's situations like that in Model UN that really emphasize out-of-the-box thinking and effective collaboration with those around you – which I especially love – and I highly recommend Model UN to anyone who has an opportunity to try it out."
For David Alade, a current Sophomore in the club, it is all about having an influence and making an impact. "There's no better feeling than taking control of the whole committee while everyone else is working so hard to solve our country's (Turkey's) problems," he says.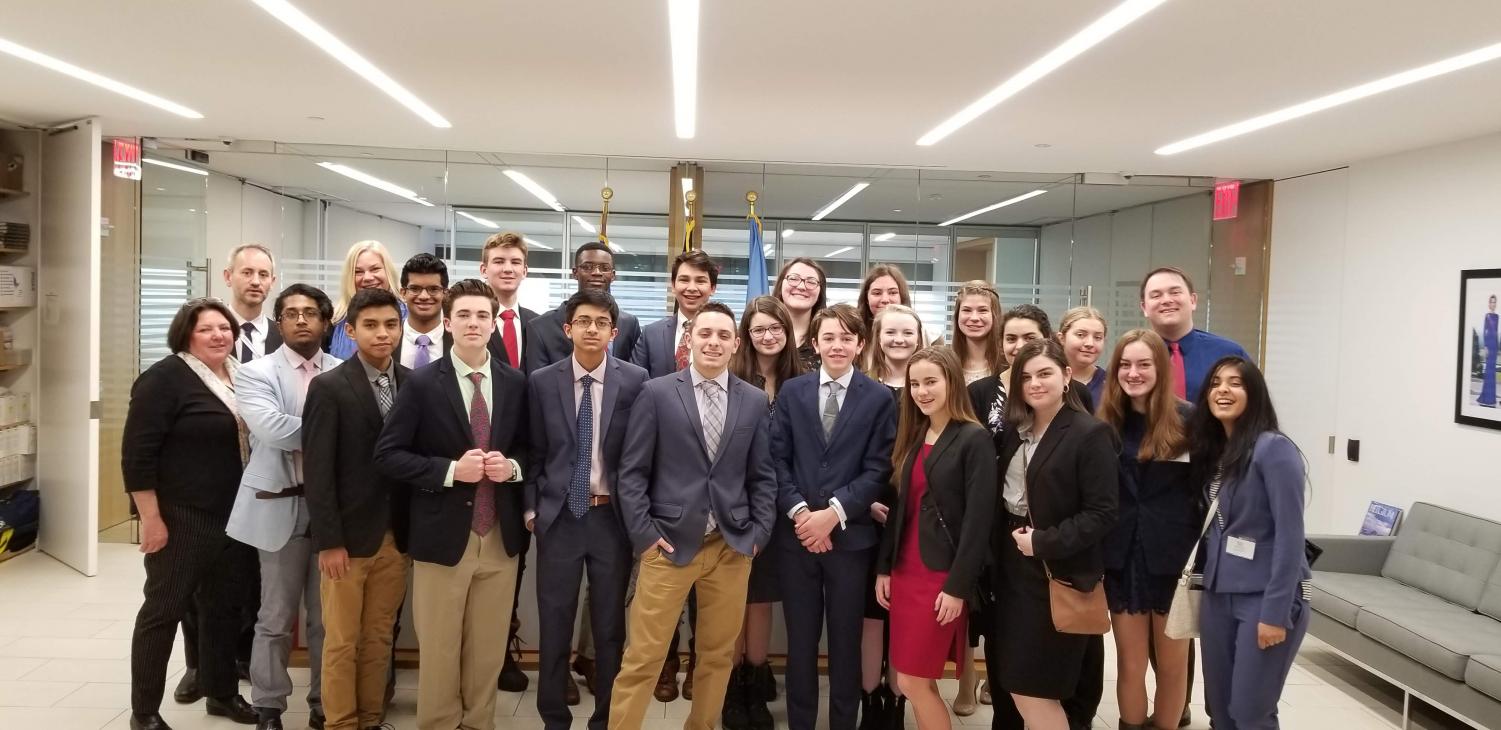 Jane Scinta, Director of PR, Recruitment, and Training, ended her final CMUNCE on a high note. "Because it was my last year attending CMUNCE, I was especially appreciative of the opportunity to be a part of the Paris Commune of 1871. As the Chair of Labor and Trade for the Communard government, I got the chance to enact socialist reforms, develop a military strategy to fight the Prussians, and even marry a relative of Karl Marx! Using a militant workers organization known as the Order of Parisian Workers, I ushered in a series of reforms to strengthen our socialist regime…before being thrown to enemy troops for committing election fraud."
Olivia Fedio, Director of Conferences for Brewster's Model UN club, also had a great experience at what happened to be her first and final CMUNCE. "Only at a Model UN conference can you kidnap the queen of Scotland, hire 100 spies to protect her, and relinquish all of Europe to Spanish control all in one weekend," she notes. "Lacking experience in crisis committees, I was worried I would struggle at CMUNCE, but I quickly got caught up to speed and had a ton of fun in my committee while collaborating with peers from 6 different countries."
In Model UN, you never know who – or what – you will be put up against at a conference, which proved to be true at CMUNCE. Henry Bloss, Director of Fundraising, says, "My committee was great! Although we met to help the Taiping Rebellion succeed, each delegate clearly had ulterior motives. We schemed, planned, backstabbed, and betrayed each other countless times. Even though the Taiping Rebellion made little to no progress, I was happy with the way the committee turned out, since I betrayed both the democracy and autocracy factions and put plans in place to install myself as ruler."
Contrary to popular belief, Model UN isn't always about politics and international affairs. CMUNCE offered many unique committees based on television shows and movies, such as Avatar, The Crown, and The Office. "My unconventional committee, 'The Office: An American Workplace' turned out to be just as much fun as watching the show on Netflix," explains Maria Najjar, Director of Crisis for Brewster's Model UN club. "Although Scranton transitioned from a paper company to a drug company (that eventually invented vapes) after the second day at Columbia, I was pleased to witness delegates staying true to their characters. Kevin came to committee with a can of his signature chili, Stanley did his daily crossword puzzle during every moderated caucus, and Dwight wore his wired glasses and mustard shirt. The crisis staff was so in-tune with every detail of the show that I was able to become the Scranton Strangler (on the down low) and ended up strangling Hank and the Nard Dog successfully…after being put on trial, being found guilty, and being "removed" from committee. Overall, I'm so happy I chose to participate in the Office committee. I was able to be a part of the show that I have watched and enjoyed for years."
Brewster delegates utilized the time between committee sessions to explore Columbia University's campus and adventure around Times Square. They visited famous locations such as M&M World and hung around the Marriott Marquis, a four-star hotel in which they resided in for the trip. Once the students arrived at Columbia's campus, we eagerly awaited an evening spent visiting Shake Shack and Insomnia Cookies. Students also had the opportunity to speak with the Deputy Ambassador for Belgium's Permanent Mission to the United Nations. From him, they learned about the role of the UN Security Council, and Belgium's stance on important issues that the United Nations focuses on. Students enjoyed asking the Ambassador questions, which were answered in great detail
and propelled the discussion forward. Ultimately, students were most impressed with the tremendous amount of clout the ambassador has garnered on the world stage.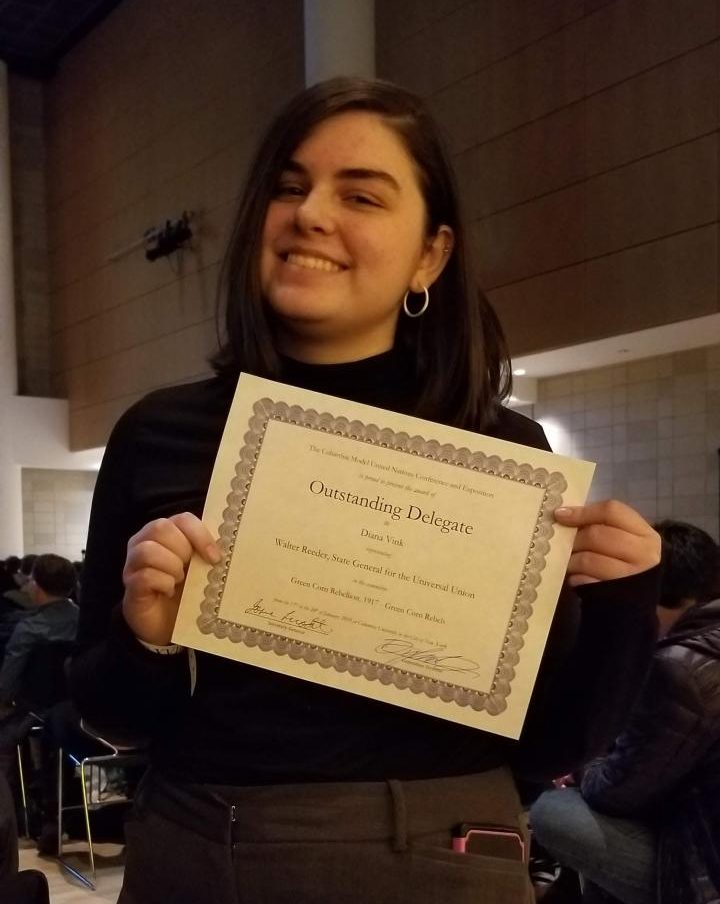 On Saturday night, several of Brewster's students had the opportunity to participate in a midnight crisis. Sarah Borsari, David Alade, Akshay Gupta, and Supriya Sharma had the chance to debate a new series of crises until 2:30 am on Sunday. The value of the experience of midnight crisis was best seen in Supriya's supreme enthusiasm and positive energy at being selected.
The conference concluded on a high note, with four Brewster High School students receiving awards during closing ceremonies. Diana Vink was awarded Outstanding Delegate for her
representation of Walter Reeder in the Green Corn Rebellion; Maria Najjar was given the award for Honorable Mention for her portrayal of Toby Flenderson in The Office; both Supriya Sharma and Henry Bloss were awarded Verbal Commendations for their representations of Kim Dae Jung in the Fifth Republic of Korea, and Feng Yushan in the Taiping Rebellion.
Despite Sunday's unpredictable weather forecast, and a serious lack of rolling suitcases, students were on the train back to Brewster soon after closing ceremonies, thanks to Mrs. Chalmers and Mrs. Schumacher for leading with lightning speed. Attendees of CMUNCE would like to thank both Mrs. Chalmers and Mrs. Schumacher and of course the club's dedicated advisor, Mr. Mullane. Without them, attending conferences such as CMUNCE and the making of unforgettable memories along the way wouldn't be possible.