Wordle Dominates The Nation, All With Just Five Letters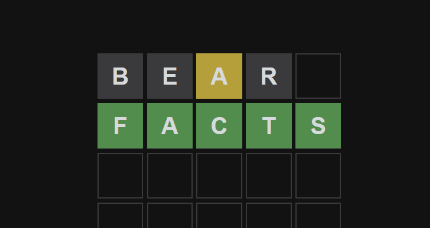 Not just a fad, the word game is taking over.
Have you recently noticed your friends posting green and yellow box emojis on Twitter or Facebook? To those confused, it's the score of your friend's recent Wordle game. Wordle has become a massive hit across the country and we've all come together to play the daily word game.
Here's a quick rundown: the basis of the game is that every day there's always a new word to be uncovered, and you must solve the word in six tries or less. You're only allowed to use 5-lettered words, and if you get all six attempts wrong, you lose the game. A green letter means you got a letter in its exact spot, a yellow letter means it's within the word but not in its exact position, and a gray one means it's not in the word at all. This allows the player to utilize the process of elimination to determine what the word could be and win the game. With how massively popular this game has become, there has been one common rule followed- to not reveal the daily word. While many just get annoyed at the spoiling of the daily word, people will go as far as block one another on social media, especially Twitter, if they reveal the word, truly revealing how much this game means to them.
There has also been a rapid share of "starting words" for the game. I begin every game with "crash," while some use words like "fresh," "house," "ocean," or even "spear." These starter words give many the advantage to get as many letters as they can in solving the word in as few guesses as possible. While you could get the word in six attempts, it's more aesthetically pleasing to achieve a low Wordle score, revealing how smart, or just how lucky, you are.
Recently, the newspaper conglomerate The New York Times, bought Wordle from creator Josh Wardle, who created the game back in 2013. The NYT bought the game for an undisclosed seven figure amount, which in the grand scheme of things, sounds pretty fair. But many seem to worry for the future of the game, since the NYT is infamous for putting their games behind a paywall like their crosswords. They promised that they would "initially" keep the game free for everyone and keep it on the same domain, although recently the domain has changed and has adopted a Times address. I can understand many's worries, as I myself also worry for the future of the game. But as all games do, they eventually fade away and a new game comes into place to keep us engaged. Even with this game's simplicity, the engagement it has received is almost unprecedented. I have honestly never seen so many people become involved in a game like this since Pokémon GO™ back in 2016.
For now, we'll continue to post our Wordle scores on social media, exclaim our frustrations at how stupid the "word of the day" was, and recommend each other our starting words.