Brewster High School Students Attend One of the World's Premier Model United Nations Conferences
This past March, the Brewster High School Model United Nations team traveled to Washington, DC, where they participated in the Washington Area Model United Nations Conference, or WAMUNC. WAMUNC is hosted by The George Washington University, and was held in the Grand Hyatt hotel this year. The conference is one of the premier high school Model United Nations conferences in the world, attracting students from around the globe. Brewster brought 30 delegates, making it one of the larger delegations present.
Upon arrival, students checked into the Grand Hyatt, and were impressed by the intricate architecture and light fixtures in the lobby. They soon attended opening ceremonies, where they heard from keynote speaker, Andy Rabens, the Special Advisor for Global Youth Issues at the U.S. Department of State. Mr. Rabens spoke about how he used to have a lisp and struggled with public speaking, but now speaks publicly for his work. After an inspiring message and a wonderful opening ceremony, delegates headed to their first committee session.
WAMUNC ran many different types of committees, from traditional Model UN International Bodies, such as SOCHUM and DISEC, to Historic and Specialized Bodies, including: A Joint Session of the 91st United States Congress, and Crisis Committees like the "Battle of the Bells" which focused on issues within AT&T and Verizon. In the Historic and Specialized Bodies, delegates worked to come up with detailed resolutions to the issues they discussed. Crisis committees tirelessly responded to different challenges and obstacles in a timely fashion through secretive notes and group directives. Committee sessions spanned all four days of the conference.
Brewster delegates had exciting experiences while in committee. Alex Goldberg, a first time delegate in SPECPOL, remarked that he got to "learn the basics of parliamentary procedure" in his committee. "It was terrifying to speak in front of about 150 delegates. But it was cool being able to see the final draft resolution get passed, since everyone put in a lot of effort in and outside of committee," he noted. In other words, "it was lit."
Long time member of Model UN and Director of Crisis, Maria Najjar, had a great experience in her joint crisis committee. "My committee was a JCC between Verizon and AT&T, and I had the pleasure of being the VP of International Marketing in Verizon. The crisis committee was so fast-paced as we were constantly thrown different problems and updates. Our company got offers from many potential buyers and we debated whether or not to sell as our stock prices dramatically fluctuated. We transitioned into a whole new world of 5G and had to deal with communist uprisings at our headquarters in Latin America. As usual, I had so much fun and I'm glad to have finished my last conference with Model UN on a high note!" Najjar explained.
Model United Nations conferences are never free of challenges, however. Henry Bloss, Director of Fundraising, learned this at WAMUNC: "My committee was… difficult," he admitted. "My chair refused to call on me, making accomplishing my goals problematic. However, through some careful manipulation and use of my allies, I was able to gain territory and influence in Post-Napoleon Europe." In Model UN, it is vital to recognize your obstacles, think strategically, and work hard to overcome them.
Speaking of challenges, all delegates who participated in a crisis committee were pulled to debate in a Midnight Crisis. Here, delegates were faced with extremely difficult challenges and events to respond to, such as the second Black Plague. Students debated until roughly 2:00 in the morning, but had the luxury of sleeping in the next morning.
While committee sessions are always fun, dynamic, and educational experiences, some of the best times at a Model United Nations Conference occur outside of committee. The Brewster High School delegation was lucky enough to visit the Atlantic Council, which is an American think tank in the field of international affairs. Students learned about how each employee ended up working for the Atlantic Council and what is discussed within the think tank, and even had the opportunity to ask questions.
It was a very rainy weekend at WAMUNC, so many dinner breaks were spent running through the rain to get food. The sushiritos that were attained made getting drenched completely worth it, however. Brewster students also enjoyed dining in Chinatown with amazing bubble tea, and at Nandos, a D.C. classic. Food could even be delivered to the hotel using Uber Eats, although students do not recommend ordering pizza, since it is nothing like what they can order in New York.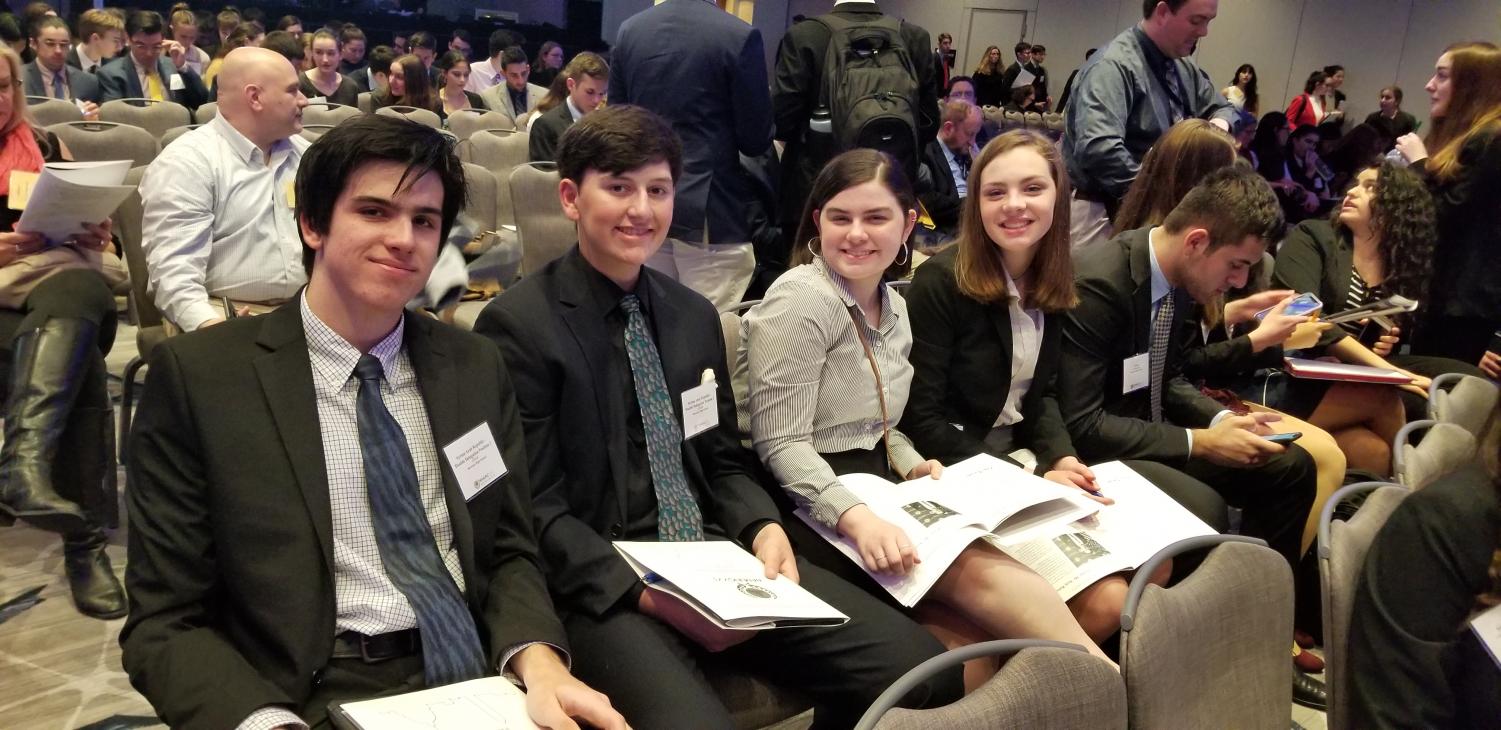 Model United Nations members are such go-getters that they even utilized the early mornings to fit in some sightseeing. Track and cross country members got together to run around the National Mall, and some students got up extra early on the final day to watch the sunrise over the Washington Monument while sitting on the steps of the Lincoln Memorial. Although less than favorable college decisions flooded the inboxes of the club's senior members during the weekend, the support and friendship shown between them in these disappointing moments was unparalleled and will be something that they will remember forever.
The conference concluded on a high note, with Anthony Ayala being awarded a Verbal Commendation for all of his hard work. After closing ceremonies, students boarded the coach bus to head back to Brewster, but not before buying their last Cherry Blossom Frappuccinos from Starbucks. The ride back was filled with eating snacks, watching movies (which were played at too loud of a volume for some of the club's taste), and looking back on the conference that had already begun to turn into a memory. The entirety of the club would like to thank Mrs. Chalmers, Mrs. Schumacher, Mr. Mazota, and Model UN's advisor, Mr. Mullane, for chaperoning the conference and making the trip possible. The club's seniors would also like to give them a special thanks: "Thank you for helping to run a club that has been the highlight of our high school years, and has formulated life long friendships. We are sad that our time attending high school Model UN conferences has come to a close, but are happy that our last one could be #WAMUNCXXI… we can't thank you enough for all of your support!"