Super Yawn: Bowl LIII Rematch Only Challenge – Sports Fans' Attention Spans
What is it with Boston sports teams and winning? This is a high school paper based in New York who for the second issue in a row has to talk about a team out of Massachusetts? Whatever, let's get on with it.
The New England Patriots raised their franchise number of Lombardi Trophies to 6 recently by beating the NFC Champion Los Angeles Rams by a measly score of 13-3. At first, things got off to a slow start for both teams. There were a few firsts that happened in the Super Bowl XXXVI rematch. (Funny enough, in that Super Bowl Tom Brady and the New England Patriots were seen as underdogs lined up against, at the time, the St. Louis Rams led by quarterback Kurt Warner, future hall of fame running back Marshall Faulk, and the Greatest Show on Turf.) For one thing, after 2 quarters of play, all that was there to show for from the offenses of both teams was a 42-yard field goal made by kicker Stephen Gostkowski of the New England Patriots. (Gostkowski before this field goal completion had tried a field goal 46 yards out; this one was no good.) In fact, one of the major highlights coming out of the first two quarters was LA Rams punter Johnny Hekker booting the longest punt in Super Bowl History at 65 yards. (Yes, at the rate of how this game was going up until that point, it was seen as a positive; even the announcers got excited about the play.) The scoring in Super Bowl 53 picked up in the second half with the Rams tying the game on a field goal by kicker Greg Zuerlein (in the NFC Championship Game, Zuerlein had kicked a 57-yard field goal to win the game and secure LA's path to the Super Bowl). In the 4th quarter, the Patriots secured the victory with a two-yard rushing touchdown by rookie running back Sony Michel and another field goal by kicker Stephen Gostkowski. This Patriots Super Bowl victory gives both quarterback Tom Brady and head coach Bill Belichick their sixth Super Bowl rings.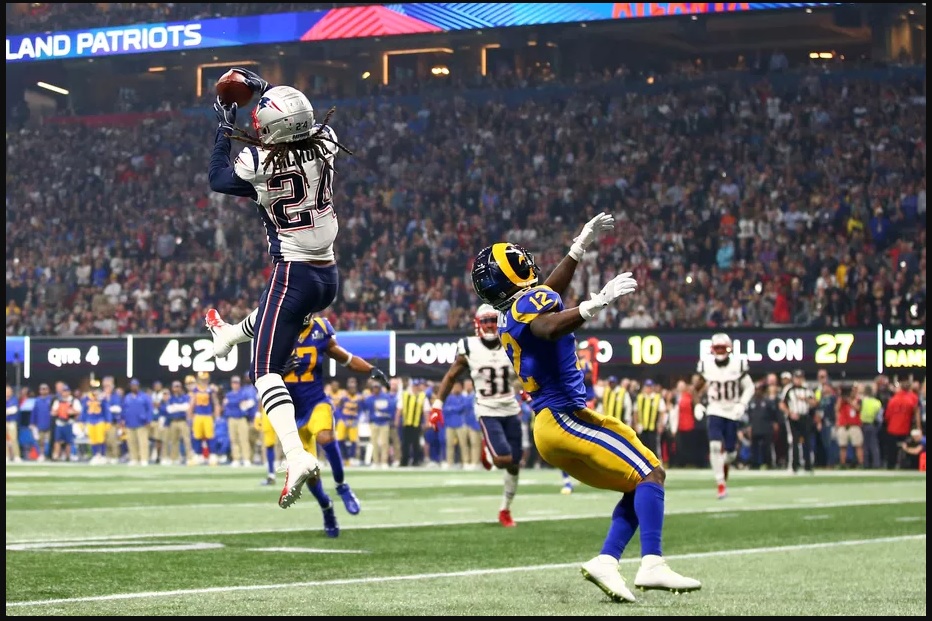 After all that was said and done, the Super Bowl LIII MVP was given to Wide Receiver Julian Edelman of the New England Patriots. Edelman's performance in Super Bowl LIII included 10 receptions which went for a combined 141 yards. The 5'10" 32-year-old Wide Receiver out of Kent State University had a delayed start to his season after being suspended for 4 games for violating the NFL's performance-enhancing substances policy. Prior to his suspension, he missed the 2017 NFL Season after tearing an ACL. One observation that could be made to make Edelman's case for receiving this award was that whenever Edelman got the ball in his hands, he was constantly helping to move the chains of the New England Offense down the field. Edelman had 7 receptions after the first half, tying an NFL record. Besides Edelman, the major performers for the AFC Champion Patriots were cornerback Stephen Gilmore (he came up with a clutch interception that put away one of the Rams hopeful drives, and believe me, there weren't many for them) and running back Sony Michel.
The Rams led by 33-year-old Sean McVay were seen as a favorite for both the making of the Super Bowl along with the winning of it. McVay at 33 is the youngest head coach ever to coach in a Super Bowl game (only time I'm mentioning this; calm down). But when gameday came, their offense was stifled by the New England Defense. Their run game led by Todd Gurley went nowhere (Yes, he did not get that many opportunities but the ones that he got he never capitalized on.) and their quarterback Jared Goff was getting pressured at what seemed like every single play. Their defense likewise to their Patriot counterparts had an amazing game; it was their offense that failed to put points on the board and give themselves a chance at winning Super Bowl 53.