Bear Facts Presents: Extraordinary Athlete Profiles
We may all be familiar with footballers, basketball players, sprinters, and field hockey champions. But Brewster boasts more than just the staples of high school athletics. So, we proudly present three athletes that have made their names in fairly uncommon ways and sports.
My History with Rugby
by Omar Elabdouni
Rugby is the fastest growing sport in the country and continues to be a major influence for student athletes as well as in the professional sports world. It's also one of the oldest sports played, as well, but it has only been recently added back into the Olympics after being removed in 1924. Rugby can either be played in a 15 vs 15 environment (which is more physical and played for 80 minutes), or it can be played in a 7 vs 7 structure (14 minutes in total). When the Olympic Committee reinstated the sport, they did so with the 7's form of the game. Personally, I prefer 15's because I like the physicality and the demand of the longer, more aggressive game. It pushes me to want to play as hard as I can to win.
Unlike football, rugby players don't wear any type of protection or gear. Our uniforms consist of booty shorts, high knee socks, and skin-tight jerseys. The rugby ball itself is the shape of a football but much larger. If someone who has never watched rugby went to a game, it would probably strike them as the most bizarre thing. At least that's what I thought when I first attended a game.
I started playing rugby during my freshman year when one of the coaches came up to me in the pursuit of trying to recruit people to play. (Most of the athletes decided on football, basketball, or baseball.) I figured, sure, why not? I had never really played a sport before and wanted something to do after school.
I don't think I had ever been more lost in my life than when I had my first practice. People were throwing the ball weirdly and calling out things I didn't know were even English. But I was hooked. Eventually, I caught onto the fundamentals of the sport and the terminology grew more and more familiar…and I became somewhat adept at the game – especially for a freshman. I was put on the Varsity team with a bunch of seniors. I was blessed to make the all-star team, to play a good amount, and to almost win a tournament.
However, my sophomore year wasn't quite so fortunate. I took being a Varsity starter for granted and didn't try so hard. While I played the regular season, I didn't make the all-star team that summer. I realized how hard it was to keep up with rugby athletes who had been playing the sport for years. So in my junior year, I dug into this sport that I wanted to master. I studied different rugby skills and tactics and became more comfortable, knowledgeable about the sport, and made my way onto the all- star team for the second time.
This year, as a senior, a lot of the younger players look up to me and see me as a model rugby player. The team's goal is to win a state championship – and with the way we are playing, and considering how close we have grown as a team, there's no doubt in my mind that we have what it takes to go all the way.
Looking back, I'm so glad I made the decision to choose rugby. I'm very proud of how much I have developed in the sport that I love. Not so long ago, I was a freshman who didn't know rugby was a sport. Not so long from now (in a little over four months), I will have the opportunity to try out for the rugby team at the University at Buffalo – which just happens to be a D1 rugby school.
Lucas Lutar: My Life on the Fence
an interview with Kate Vaughan
At just 15 years old, Lucas Lutar has firmly established himself on the fencing circuit, even traveling to France to compete while maintaining a strong work ethic that balances athletics and academics. With many prospects ahead of him within the sport, Lucas will have many opportunities for achievement within the sport. Our reporter sat down to get to know this unique individual, learning a little bit about what motivates him.
KV: Lucas, when did you start fencing?
LL: I started when I was probably nine-years-old, so maybe in fifth grade.
KV: What is it that first got you interested in fencing and motivated you to take up the sport?
LL: My sister did a couple sports, and my mom wanted me to do a sport besid
es playing video games all day!
KV: Were there any obstacles that got in the way of fencing?
LL: No, I don't think so. I was really focused on fencing, and school didn't really interfere with it. They kind of just collaborated with each other, I'd say.
KV: How do you balance your schoolwork with fencing?
LL: That's a hard question. I say it's hard to answer because I take all of my schoolwork with me when I travel, so it's kind of like I'm always in school – kind of. I'm always teaching myself; it's like
I'm kind of home-schooled. I bring my schoolwork with me whenever I'm fencing.
KV: In terms of fencing, where do you see yourself in five years?
LL: Hopefully on Senior Team, which is really high. So, um, maybe the Olympics? Who knows…
KV: Tell me about your experience in France last year?
LL: It was really fun! I hung out with a bunch of friends, including previous champions in my age group. And I did really well for my first time that year. (Lucas scored third place.)
KV: What is something about fencing that most people don't know, that you'd like to tell them about?
LL: I'd say, fencing doesn't require the strength of the person. It's not all about endurance; it's more about the intelligence – or the competence – in the person's mind. It's like a game of chess.
Thank you for your time, Lucas. We wish you a satisfying and fulfilling relationship with fencing.
The Love of My Life: Why I Play Lacrosse
by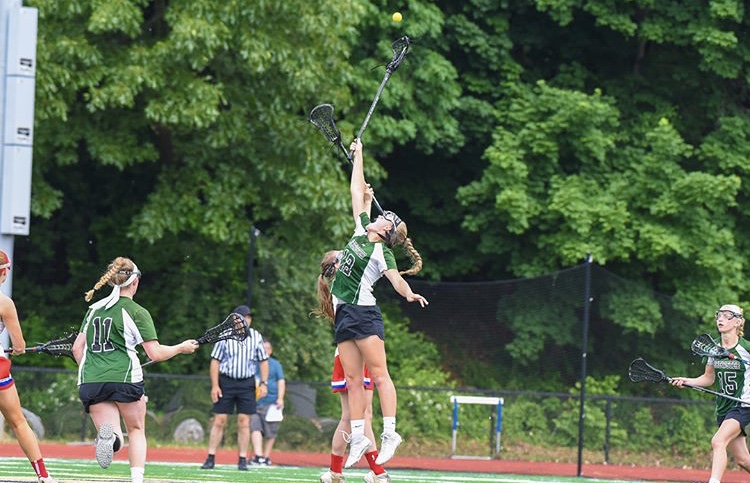 I grew up in a family of baseball players.
So, naturally, when it was time for me to join a team, I signed up for softball. Although I never truly loved softball, I never wanted to stop playing since both of my brothers loved the game of baseball so much.
I compromised. I told my parents that I also wanted to try playing lacrosse, an entirely new sport for our family – no one had ever played.
From the start, I fell in love with the sport. But I worried about telling my family that after my very first practice, I wanted to stop playing softball and switch to lacrosse. I had a feeling I'd found my niche.
My parents wholeheartedly supported me. My dad bought a stick so that he could have a pass with me on the road in front of our house. I'll never forget how exciting it was when, after hours of throwing and catching, we'd finally caught ten in a row!
It's interesting to look back now and realize that our youth team of 2010, made up of a bunch of third graders, would later make school history. Many of the girls who attended that very first practice ended up as high school teammates sweating their way through practices in the early days of June 2018. These were the girls who would be jumping and cheering with me as we proudly hoisted Brewster's first Sectional plaque in the air after our big win. These were the same girls seated next to me on the quiet bus ride home from our devastating one-goal defeat at States when our magical season came to an end.
My love for lacrosse has grown with each passing day. The skill, the speed, and the competition are unparalleled by any other sport I've played. The excitement that I felt when I first started playing lacrosse has never faltered but continues to heighten with each game. It's difficult to express in words just what Lacrosse has given to my life. I very strongly believe that our character grows as the result of playing sports. We learn that hard work pays off. We experience the thrill of victory and how to pick ourselves up after defeat.
And, we learn about people. My relationships with teammates and coaches mean more to me than I can articulate. I have been given opportunities that I would not have found without lacrosse, and I will be forever grateful for them. Most importantly, the memories I've made will be cherished forever…and although my brothers might disagree, I'm just not sure I would have found those memories on a baseball field.