Embracing Diversity and Announcing with Empathy
Bridging the English-Spanish Divide at BHS
I moved to Brewster after living in the Bronx for fifteen years. Throughout the course of my two and a half years here at BHS, I've been very aware of the disconnect that exists between the English-language learner community and the native English speaker community. Neither group interacts with the other unless it's absolutely necessary.
During my senior year, I have decided that I want to help to bridge that gap. I want the ENL and Hispanic students to feel accepted in the community.
In November, Democratic Congress held a convention to address the concerns of ENL students. I, along with many other bilingual students, helped to facilitate the convention. The facilitators worked with small groups of ENL students, taking questions about their experiences in the high school and what they wanted to change.
It was a humbling event that forced me to view the high school experience from the perspective of an ENL student. In my conversations with ENL students and reading their responses to a climate survey, I learned that many of these students value their education; they view education as a platform to a better future. Many of them value the opportunities they have here in Brewster and in the high school; it's a special opportunity for them, especially in the midst of a tense and divided political climate. I, like these students, feel compelled to prove that as Hispanics, we have a place in the school, in the community, and in this country.
We feel compelled to strive toward promising futures for ourselves.
In the survey, students were asked what they would like to see change in Brewster. A large number of ENL students wanted to see more sports and activities being offered in Brewster. It's interesting because as a native English speaking student, I'm aware of the vast extracurricular activities and the opportunities that exist to create student organizations here. However, I know about these events and organizations because I speak English. Many students didn't know of school events because there wasn't a system that allowed them to know. Creating a system was a necessary and much-needed step toward promoting acceptance and embracing the diversity within the Brewster High School community.
During the conventions, I was talking to one of the facilitators about the isolation that the ENL students were experiencing. We discussed the possibility of starting a system where Spanish-speaking students would collaborate to translate the English announcements and post them around the school, as well as having Mr. LoAlbo read the announcements in Spanish.
With time, we realized that the spontaneous system was ineffective, and we have been making regular changes to improve it. I continued working with Ms. McLeod to create this system where a native Spanish-speaking student would read the morning announcements with Mr. LoAlbo after translating the English announcements. After administrative approval and support, the Spanish announcements began in mid-December, with the hopes of providing a space where the diversity that exists in Brewster is embraced and where Hispanic students feel represented in the school community.
There were still some students that weren't supportive of the Spanish announcements system and some who didn't understand its purpose. As a result, I decided to use the morning announcements as a platform to talk about the importance of acceptance and tolerance in the midst of the negativity that consumes our world. It's important to be compassionate and empathetic. We must be willing to open our minds and view ideas from the perspectives of others. Understanding that subtle things like including others in the morning announcements is a way to combat the hatred that's so prevalent in this world and in our community.
As a Hispanic student who wants to make a real effort to mend the disconnect, I want this system to become a regular part of the day in the high school. I want more Hispanic and ENL students to feel accepted. I want Brewster to hold more inclusive events – like the multi-cultural food festival – to embrace the multiple cultures represented in our community. I want Brewster to embrace diversity and tolerance. I want us to continue to move forward and care more about each other and find meaning in making the world a better place for everyone, regardless of their religion, race, ethnicity, or other social characteristics.
We need to make the Spanish announcements system a daily practice in Brewster High School. We need to continue to make collective efforts to surpass the language barrier. Embracing diversity isn't just about language or food: it's about inclusion and mutual respect and striving toward becoming a better school and better people.
We need to embrace diversity.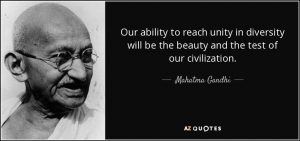 Feel free to read and share this piece in the accompanying Spanish version.