Is a Third Season Too Much To Ask?
On June 15, 2012, Disney began airing a new show, Gravity Falls. However, after just two short seasons and a network change, we have seen Gravity Falls quite literally fall, leaving fans of the show stunned and upset. The show soared above most modern animation before it had its wings clipped, it's prime still ahead of it, and it simply would have been much more beneficial to the story, and fans, if it just had another season.
Gravity Falls was the brainchild of Alex Hirsch, an animator and voice actor who had worked as a writer and storyboard artist on shows like Fish Hooks (2010) and The Marvelous Misadventures of Flapjack (2007). Hirsch graduated from the California Institute of The Arts, and shortly after his work on Cartoon Network, he received a call from Mike Moon, a Disney executive, who asked him to pitch a show for them. He decided to pitch Gravity Falls, a show based off his own summers in Piedmont, California, with his twin sister, Ariel.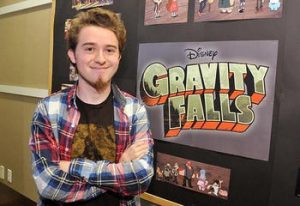 As soon as the show aired, people went wild. Critics loved it and the fanbase quickly grew in anticipation of each new episode. Brian Lowry of Variety wrote in June 2012, "The show has a breezy quality that should play to kids, and tickle some twinges of nostalgia among their parents." That was simply the beginning. The show remained just as exciting and anticipated throughout it's run, being Disney XD's most watched show of 2014 with an average of 1.8 million viewers per episode. In the first line of his article written in early 2015, Erik Kain from Forbes magazine wrote, ¨Gravity Falls is the best thing on TV at the moment." He goes on to call it ¨delightful," having ¨some of the best characters on TV,¨ and containing "a great story with consistently excellent writing.¨
Yet, on November 20th, 2015, a mere 3 days before "Weirdmaggedon 2: Escape From Reality" was aired on Disney XD, Alex announced through his Tumblr (@schmalexmirsch) that the show would be ending after the next episode with an hour-long finale. Obviously, fans and critics alike were shocked. A typical cartoon airing today has at least 65 episodes before they are either cut or given more episodes, yet Gravity Falls only got 40. Now, you may think that this decision was because of Disney, that the network chose to cut the show due to ratings or content, but it's the exact opposite. Alex Hirsch made the decision to end the show, despite the fact that Disney, and all fans of the show, desperately wanted him to continue.
Gravity Falls ended, in many ways, on a good note: a cookie-cutter ending that wrapped some parts of the series up with a nice bow, but with still many questions left unanswered. Hirsch seemed to have bit off more than he could chew with the promises he made. Among them was the promise of learning Dipper's real name, a major character death, and a goat-human transformation. Some of these questions were ultimately answered following the release of the Journal 3 book written by Hirsch himself (which was released on July 27th, 2016), although as seen in interviews, Q and A's, panels and Tumblr, Hirsch revealed that he did not give himself or the characters enough time to get through it all.
A third season would have helped the show in many ways and allowed it to breathe its full intended amount. It would have given Hirsch the time he needed to complete all the underlying plotlines that were severed and forgotten in the finale. A third season would have also helped to bring closure for the fans who loved the show, as due to the late announcement, fans only got to see one episode air before the finale, which was a month after "Weirdmaggedon Pt. 2."
Continuing the show would have also helped Disney and Disney XD's animation reputation. When people think animation, they typically think of networks like Cartoon Network and Nickelodeon, ones who have held on to shows like Adventure Time (2010) and Spongebob Squarepants (1999). Disney XD, with the exception of Star Vs. The Forces of Evil (2015) and Phineas and Ferb (2007) does not have a very good reputation for awesome animations, and how could they with shows like Pac Man and the Ghostly Adventures (2013,) Future Worm (2016), and Pickle and Peanut (2015)? In fact, many people were even turned off to Gravity Falls simply because it was connected with that network, but many people who gave Gravity Falls a chance began looking to Disney XD for new animation, partially leading to the popularity of its newer shows like Star vs The Forces of Evil, which was renewed for a second season before the first episode even aired.
Despite fan outrage and desires, Hirsch did have reasons for ending the show. In Season 1, he had already come to the internal conclusion that he would not work on the project for more than 2 seasons, even though he had seriously considered giving it only one. Hirsch had said, "I tried to experiment, and the craziest thing is, they let me do it." Along with the internal decision to end the show, the amount of work that went into each episode (roughly 10 months to produce a single episode) led to inconsistent release dates and many long days. Hirsch also thought that it was best to end the show in order to stay true to the original vision. "I pitched the show as this thing that has only a few seasons – it has a beginning, middle and end. It's one summer. There are just a few big questions that have answers, and once they're answered, that's it."
While these are both good points, it just isn't enough to say that it was the best idea to bring Gravity Falls to a close. Yes, like Hirsch said, it is one summer, and though we do understand the importance of keeping the show fresh, it is hard to believe that with such a talented group of writers and animators working on this project, that it could ever turn cold, not to mention the multiple ideas that he didn't fulfill because of time constraints, which could easily have helped to create a third season. The whole project just simply ended in all the wrong ways, with not enough completed and with very little notice, lacking another season to satisfy the expectation of many of its devout fans. Despite our pleas, it would seem that our beloved show has come to an end, and what might have been will only exist in our minds and hopes.
May Gravity Falls live forever.