Classic Rock in the 21st Century: A Concert Review of Greta Van Fleet
On a rainy December evening in New York City at the tiny Bowery Ballroom, the less than a thousand people in attendance to see a new rock 'n' roll band perform could sense that they were witnessing something very unique. When a band of 18-21 year olds performs to a crowd that consists mostly of people in their thirties and forties, you know something special must be brewing. The band rocking New York City that evening was Greta Van Fleet, a group from Frankenmuth, Michigan, a town of about 5,000 people. Could Frankenmuth, Michigan, be the birthplace of a rock-and-roll resurgence? Could Greta Van Fleet manage to bring guitars back to mainstream radio stations? That seemed to be the question on the crowd's minds, as the young Zeppelin-esque band blew the Ballroom away.
In true rock-and-roll fashion, the band didn't take the stage until 10:15 pm. The group's charismatic lead singer Josh Kiszka appeared in a colorfully patterned, 70's style getup, and talked to the crowd for about 5 minutes before the band began playing their first song. In the 5 minutes that he talked, the whole crowd seemed taken by Kiszka's charm and allure. Once he started singing, the crowd was even more taken by his pitch-perfect voice. Kiszka seemed able to hold a note for five minutes straight, and could howl in an Immigration Song fashion. Josh Kiszka tends to rouse every room he walks into, and the music world should watch out for him. Coming from the same constellation and space as Robert Plant, that same magic of classic rockers runs through his veins. Kiszka and his brothers are all up-and-coming rock gods.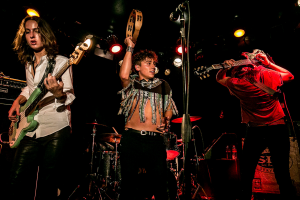 His twin brother Jake, Greta Van Fleet's guitarist, is just as entrancing. Most rock 'n' roll fans long for the past, but Jake Kizska's guitar playing made everyone in the Bowery Ballroom feel happy to be alive in 2017 to witness such talent. During one song, Jake played the guitar backwards and behind his head for two minutes straight, and the crowd lost their minds. Between an exuberant lead singer with the voice of Plant and the stage presence of Mick Jagger, and a guitarist with musicianship that most rock fans thought extinct a long time ago, Greta Van Fleet is bound to be the next big thing.
With just one double EP that contains eight songs, Greta Van Fleet is already taking the rock world by storm. While there are plenty of rock bands today, Josh Kiszka says, "We're making rock 'n' roll that's different from the rock 'n' roll people are making now," which is exactly why classic rock fans are drawn to this particular new band, as their music sounds straight out of the 70's. While some are saying that this band is just a Led Zeppelin rip off, their talent and personality suggest otherwise. Greta Van Fleet has the potential to lead a new rock 'n' roll movement, and those who saw them at the Bowery Ballroom could sense that they wouldn't be playing in small venues like that one for much longer.