Jeans, Hair, T's, and All the Latest Trends
Jeans, Hair, T's, and All the Latest Trends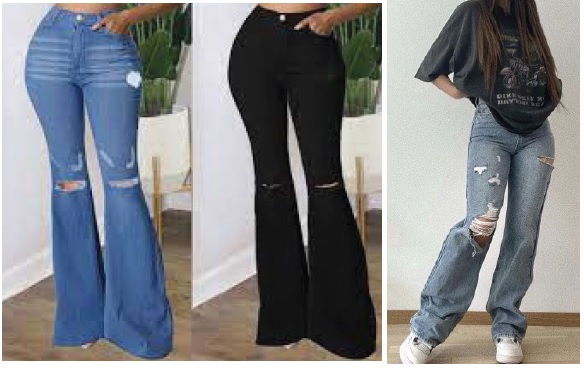 We all know everyone has their own fashion style. Whether it's preppy, baggy, sleek, goth, or whatever, 2022 is full of different styles. The one thing I find interesting is that today's fashion basically consists of a blend of 90's, 80's, and early 2000's clothing.
Jeans are a huge topic. There are low waisted flare jeans which are mostly from the early 2000s and there are also baggy high waisted jeans from the 80's. Personally, I think the fashion from the early 2000's is the best era of fashion. This is because of the fit and colors. Flare jeans are in every store. The wide bottoms make the rest of your outfit pop, especially your footwear. I personally own two pairs of these and I love them.
Lots of people tend to wear baggy clothes over any other style because of the comfort. Comfort is key, especially when you're in school.
The most popular shoes that everyone wears are Converse high tops, usually in white or black. You rarely see anyone wearing other colors since it is difficult to match outfits. Another favorite brand of shoes is Nike. Since the beginning of the pandemic tons of people have worn all sorts of colorful and crazy designed shoes from Nike. In my opinion I just want a shoe that is rather more stylish than comfy and I'm positive most teenagers think the same way.
How about when it comes to Lululemon vs. other brands of athletic clothing? Most teenagers would rather spend $100 on a pair of black leggings rather than $40 or even $20. Why, you may wonder? Well it's all about the quality and the trends. People now want to be trendy and fit in and of course they want their clothing to last longer. But ideally, the $40 pair of leggings might be the same thing just without the Lululemon logo.
The other thing that a lot of people are wearing and are really trendy are music band shirts. For example, the Rolling Stones, Sublime, and Nirvana. Most people find them at Urban Outfitters. (Which by the way is a favorited store) To be honest, I think more people like to wear the sweatshirts than actually listen to music.
Hairstyles are another subject. Mainly girls are looking into getting curtain bangs or cutting their hair short. Let's be honest: long hair can get knotted and messy all the time. On the other hand, boys like to have mullets. Especially if they do sports.
This season, boys' styles are way more casual than girl's styles. All they do is throw on a sweatshirt and some jeans and call it an outfit and yet most girls like to make their outfit fashionable. Sometimes they put so much time into choosing an outfit that once they do it's already the end of the day! Overall we are headed back to the turn of the century in all trends.