Car Corner: Who's the Best One of The Three Kings?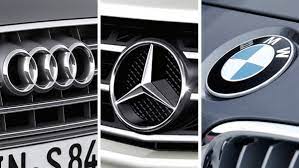 The Germans are the best. No ifs, ands, or buts–they simply are. You want luxury? They got it. You want safety? They got it. You want performance? They most definitely got it. You want reliability? Eh, not so much. But still, these are handcrafted pieces of art that DaVinci couldn't make but a few engineers in Germany could. It's simple: Audi, Mercedes, and BMW are at the top. The 3 kings of the automotive industry have taken over since the first car was even made.
First, let's take a closer look at Audi. Although to many it may look like a mom car, Audi has really always been a main competitor in all sorts of things. We can always look at the older Audi's with their 2.0 T or 1.8 T (T standing for a turbocharged engine). These really are the engines that took over with their small compactability and decent power output. But that really is for the older generation of Audis. Today, their engines for their base model cars aren't the best at all. But, if we move from the base models and look at the real deal, we have the RS model Audis, which take the body of the base models we know and make them aggressive in every way. The RS models including the RS3, RS4, RS5, and RS6 (and so on) are a blessing to the automotive industry. For a decent amount of money, you can get your hands on a rocket with crazy power coming from a either turbocharged or supercharged engine, perfectly paired with the famed Audi Quattro system. You could rip the asphalt from the power in no time. Just all around great choice for a race car.
While the acceleration and performance on an Audi are impressive, we have to take a look at something new: the BMW. You probably see them everywhere. BMW is the peak of automotive artistry coming out of Germany. There are several more models than Audi, and BMW has somewhat better engines than the Audi, as well. They also have a large amount of tunability to them from their N54 and N55. To further help that, the aftermarket support even for your regular 335i is immense with many options to further enhance your car mechanically and cosmetically. BMW in general are amazing cars. The M line of BMW takes your regular 3, 4, 5, 6, 8 series and many more, and then jacks up the power to an immense amount. It's one of the perfect driving machines with their powerful V8's or their explosive inline 6's. Although, they do come with a downside of having more frequent engine problems then other brands (the most common being oil problems which can be costly). But, besides that, BMW's interiors are just as luxurious as you can imagine with their 7 series. Truly, with a BMW, you have everything your heart could want in a car.
BMW is known again for its power and tunability as a car, but the one I think is the best has to go to Mercedes-Benz. Everything is there in a Benz. Though they're expensive, the Mercedes-Benz AMG's pack a punch you would never expect. Even though their regular cars do not have much tunability and aftermarket support, the AMG line of Mercedes is everything I need as a person. The power ranges from their 6.2 L V8's, 4.0 L V8's and even going up to 7.3 L V12. To further enhance these cars: the luxe interior brings everything together as you can take corners going 80 mph…comfortably. Plus, the cutting-edge German engineering helps in making this car more and more technologically advanced then all the other cars out there. Lastly, it appeals to anyone and everyone's needs starting with the regular base models for regular people, but going to the AMG's for those who want to have fun and ride lavishly…even if they all come with a hefty price tag. But, in the end, in my personal opinion, Benz takes the crown for most of the things that make a car good.
So, as we compare the pros and cons of each car company, you may ask, who's the best? Well that crown is simply given to Porsche. Since it's making, Porsche has been dominating in every single field of the automotive industry. Porsches have some of the best engines, outputting crazy power in a sleek machine that dominates in everything. Everything that the other companies lack, Porsche does its best and even more. The luxury, the performance, the acceleration, even the engineering that went to make these cars is crazy to think that they beat even the Ferrari's that everyone loves. To further support that claim, besides Mercedes, Porsche has won numerous awards and racing titles because of their cars.
So in the end, you again have the pinnacle of German engineering in the Porsche, making it the best out of them, although this is subjective to everyone. Even if Porsche is that much better, I love Mercedes. It has a connection like no other to me and the cars they produce are no disappointment to say the least. For that reason, that's why in my opinion the real king out of these car companies, has to be Mercedes.