This Much is True: Brewster's Clearly Got Talent in 2019
The 5th Annual Brewster's Got Talent show was held on Friday, January 25th. This year we saw a wide variety of acts: singing, hip hop dancing, Irish step dancing, baton twirling, an insane pianist, and some Michael Jackson appreciation.
Many performers from past years returned to the stage to compete for the grand prize of $500. Hosted by the Brewster Education Foundation and Joe Cavanagh, the purpose of this event is to raise money for the Brewster Education Foundation. The BEF is New York's first non-profit public education foundation. Every year they provide grants, awards, and scholarships to recognize achievement, encourage innovative teaching team approaches, support programs, and foster community service.
I have participated in this show since its debut in 2015. I am always moved by how many people come out to support the event. This year, there were 3 judges: Bill Flash, Carolyn Martin and Vinny Larusso, who probably had the hardest jobs of the evening. They used a scoring system to determine the winners (all are accomplished in the arts in some way).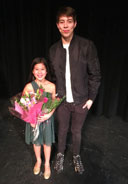 There are three divisions based on the performers' ages: the youth division (middle schoolers and younger), high school division, and the alumni/post high school division. One act from each division is chosen, and an overall winner out of the three division winners is then chosen. The prizes for each division is $250, and the overall winner gets an additional prize of $250.
This year, the 2019 Brewster's Got Talent winners are: singer Emiko Dunn (youth division), singer-songwriter/guitarist Annie Sullivan and singer Justin Rodriguez (who tied for the high school division) and finally, four-time crooner, Anthony Loiacono – or as most of you probably know him, 'Mr. L' (the alumni/post high school division).
It has been my pleasure to participate in such an incredible event for the past five years, and to observe both the talent consistency and improvements made to this show. This year, the Wells Middle School Musical Director, Johna Barrow, led a chorus of staff and students in a stirring rendition of "We are the World." The group performed before the first intermission.
I can hardly wait for next year's show! Watch for audition notices sent out by Joe Cavanagh sometime in November. Even if you're only just kind of interested, work on your talent, take a risk, and go for it! Good luck!