Your 2022 Fashion Trend Predictions
How to beat the winter blues, in style!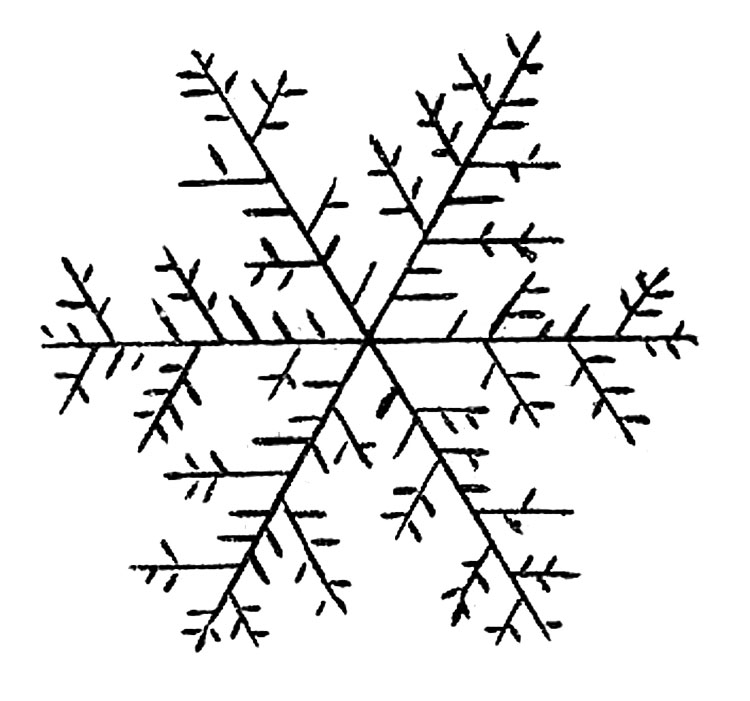 Clothes are a big part of our lives- they explain who we are through their words of color and style. But we'd all be lying if we said that choosing clothes to match together to make that perfect outfit was easy; that's where this list will come into play. With the winter now upon us, everyone is looking for that immaculate fit that seems impossible to find. So let me help cure all of your outfit dilemmas with a few favorite options, because the new fashion trends of winter '22 are sure to replace everyone's winter blues with perfect snow day vibes.
ONE: PJ's in public? YES!!!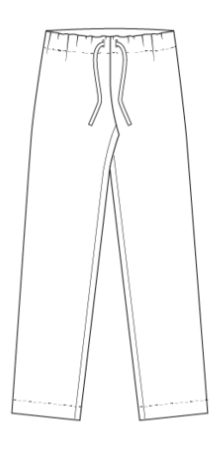 I know what you're thinking, why on earth am I putting pajamas on a list of the top trendy outfits of this winter? The short answer is because they are dominating the wardrobes of teenagers all over the world. If you are looking to replicate this trendsetting fit, grab your favorite pj bottoms- plaid, flannel, fuzzy, stripped, etc.- with a top ranging from oversized sweatshirts, all the way to tight fitting t-shirts. To make this outfit more fashionable, add in some gold jewelry, with some high ankle socks- cozy socks, slipper socks, or Nike socks- that you can either hide with your pajama bottoms or use to conceal the ends of your pj bottoms by tucking them into the socks. As for your shoes, I prefer some cozy UGGs/Koolaburras to pull together the cozy vibes, but if you prefer the sneaker route, I recommend throwing on your white Nike Airs. This fit is not for everyone (I'd take some high-rise leggings or jeans over pajama pants any day) but that's just my opinion. If you are looking to take the warm cozy comfort from bed to school with you, then this is the fit for you!
TWO: Flare jeans for days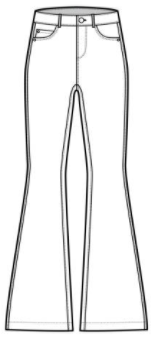 Last winter, it was skinny jeans, and this winter it's flare and bell bottoms. Everyone's got their own opinion, but these have to be my personal favorite jeans. Mixed with comfort, style, and sass?… Sign me up please! If you are looking for the perfect snazzy outfit this winter, this is probably the trendy outfit that'll fit all your cozy winter needs. Grab your favorite flare/bell bottom jeans- color of your choice- then pull out anything from: cropped sweatshirts, cozy oversized sweaters, your fitted long sleeve, or your warm oversized sweatshirt. To complete this already perfect fit, throw on some mini ll UGGs/Koolaburras; if you wanna make this outfit even more spicy, add in your favorite simple necklace. Pull on your cozy winter outfit, grab a steaming cup of hot chocolate to go, and stride through a snow covered town with ease.
THREE: High-rise, flare bottoms, and leggings…All in one!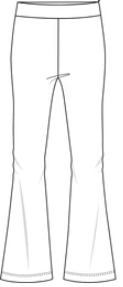 These things are selling out everywhere, they are completely taking over the shelves with their stylish appeal. Flare leggings are everything combined into one: they are stretchy and high-rise like leggings, they have flare bottoms like the current queen of jeans, and they are simply just so cozy. If you are going for ultra trendy, grab your flare leggings, throw on a cropped/oversized sweatshirt, pull on your favorite kicks/UGGs… and strut down the halls like a queen. If you wanna up the game on this fit, put on a cute wool sweater, with some Nike Airs, along with some blingy gold jewelry. Throw on your fit, wear that smile bright beneath your mask, and march through the day feeling good!
FOUR: Sweats for life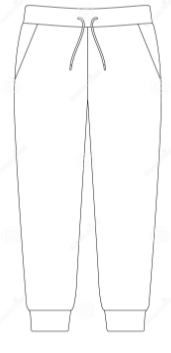 How could you go wrong with sweats? The short answer to that question is that you can't. Sweats are comfy and cozy, but they also hold the power to be stylish in a million different ways. To make this cozy fit, grab your sweats- I personally like the boundless gray or black ones- then throw on a cropped/oversized long sleeve; if the weather is deciding to be extra bitter, grab your cropped zip up sweater, or an oversized sweatshirt to keep you warm. If you are looking to give your feet an extra special treat, throw on your UGGs/Koolaburras. Add an extra swing on this outfit by adding some subtle sparks of jewelry. I don't know about you, but this outfit is screaming out the perfect wintry vibes.
FIVE: Sweaters will never fail…even on those crumby Mondays

There are about a million different types of sweaters you could have hanging in your closet: open faced, cardigan, oversized sweaters, wool sweaters, chunky knit sweaters, cashmere sweaters, eyelash knit sweaters…the list is endless. So grab your favorite sweater, and make this beautiful fit come to life. Pull on a sweater- I like boyfriend sweaters the best- then grab anything from your flare/mom jeans, all the way to your favorite high-rise leggings. If you're feeling like waking up before your alarm, curl or straighten your hair to create a perfect not-so-effortless look; but if the alarm decides to encroach on your beauty sleep and you just need that extra fifteen minutes, then pull up your hair in an effortless messy bun. In order to complete this fit, throw on some cozy winter boots or your favorite sneakers. Now you've got a flawless outfit to bring you closer to everyone's favorite day of the week: Friday.
SIX: Dear bell bottom sweatpants, I will forever love you

On those mornings that you just simply can't, throw on this outfit and you'll be sure to get through the day without yearning for the comfort of your bed. When you wake up thirty minutes past your alarm's bitter call, grab your bell bottom sweatpants, put on a cropped ribbed t-shirt/long sleeve, and pull on your cozy cropped puffer jacket. Throw your hair up into a messy ponytail, and slide into your Tasman UGG slippers. This fit is a treat to yourself, so treat yourself by sleeping in that extra 15-30 minutes, because you'll always have a perfect style that will never fail you, even on those days that are just meh.
SEVEN: Yes please, skinny jeans


Though skinny jeans are slowly fading in the shadow of the long list of other popular jeans in 2022, they are still making the shelves and giving long lasting outfits to teens all over the world. I think that we can all admit that skinny jeans are not the most comfortable of all the jeans, but if you pair them with a comfy shirt and some snazzy (but comfortable) sneakers, you'll have just what you're looking for. Grab your skinny jeans- ripped or plain- and throw on a cozy sweater or cropped long sleeve, and keep yourself warm with your cropped puffer jacket. When your fit is complete, snatch your favorite kicks and walk out the door feeling good. This look will give you all those trendy winter-into-spring vibes.
EIGHT: When all else fails…grab your high-rise leggings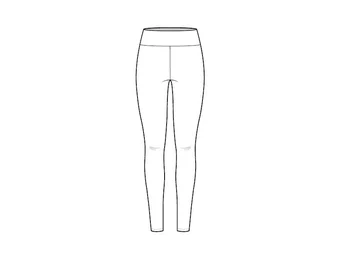 In 2019-2020 high-rise leggings were beginning to get their kick towards fame, but now entering the year of 2022, they are selling out everywhere. If you are looking for a fit with comfort, style, and just a bit of sass: you're in the right place. Put on your high-rise leggings- your color of choice, I prefer olive, dusty rose, teal, and black- throw on a cropped fitted long sleeve shirt, or an oversized sweatshirt; and you've got the main part covered. To complete this look, grab your white Nike Air Force Ones or your UGG's of choice, and a winter coat to shield you from the snow. If you want to be extra, add in some white Nike crew socks in order to look even more trendy. So pull on your trendy outfit, grab your favorite winter drink to keep you warm, and walk through the day like you just don't care!
NINE: The new and improved layered look

A lot of people say layering your clothes could be the worst possible thing to do. Well, those people thought terribly wrong. Layering your clothes gives you an effortless but insanely cozy and warm look that also happens to be super easy to pull together. When you layer your clothes, it's okay to mess around with different fabrics and colors; finding different types of clothing in order to pull them together to make that perfect look is the key idea when creating this look. First grab your favorite pair of jeans, then put on a ribbed long sleeve/tee, next get an oversized button up, and finalize the look with a warm cozy jacket of your choice- I personally love faux fur coats in order to make a statement. As for the shoes, you can really wear anything under the sun: Nike Airs, UGGs, Koolaburras, Reeboks, casual slippers, the list goes on. When this look is complete, you will have the perfect warm and cozy fit that'll be good for the coldest days that winter throws our way, as well as the warmest.
TEN: Streetwear style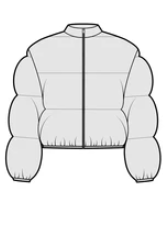 Streetwear is a style of casual dressing that centers around comfortable casual pieces: t-shirts, sneakers, hoodies, jeans, baseball caps, and more. The streetwear look surfaced in the late 1970s; it got its inspiration from New York City's hip hop culture and California's surf skate culture. This is a look that anybody could put together with the simple clothes in their closet. All you need to create this oh so comfy effortless look is sneakers, your favorite casual shirt and pants that'll match your daily needs; to complete the look, throw on your oversized jacket with some gold jewelry accents. This fit is a perfect replacement for the 'I have to look like a giant puffy marshmallow in order to feel warm' look: now you can feel cozy and warm without having to worry about fitting a giant coat in your bag.