State of the Union Showdown! Point/Counterpoint Sharply Divided
Point: Trump is Bringing the Nation Together
ON February 4th, President Donald J. Trump made his third State of the Union Address amid the highly partisan atmosphere of Congress and accurately proclaimed, "The state of our Union is stronger than ever before."
The President's numerous accomplishments, which are unprecedented during our lifetime, received high approbation from members of Congress.
From helping to foster our nation's booming economy and record low unemployment for all Americans, to replacing the North American Free Trade Agreement (which nobody thought possible), President Trump accomplished all of this amid baseless investigations, which were proven with incontrovertible evidence to be false.
I could not help but notice the lack of Democrat acknowledgment for President Trump's accomplishments. Of course, this was expected because they are his political rivals, but there were many instances of silence from Democrats during the President's speech in moments that clearly showed that he was successfully improving the lives of all Americans.
Before the speech, Representative Nydia Velázquez explained that many female Democratic Representatives wore white as a "sign of women empowerment and unity." However, when President Trump declared, "The unemployment rate for women reached the lowest level in almost 70 years. And, last year, women filled 72 percent of all new jobs added," not one of those representatives stood or applauded.
Later in his speech, President Trump introduced Ellie Schneider, one of the earliest premature babies to ever survive (at 21 weeks and 6 days). After applause, the President said that modern medical breakthroughs allow for the delivery and significant survival rate of premature babies, and implored Congress to fund additional neonatal research. This was met with bipartisan applause — a good thing. However, after President Trump called for the banning of late-term abortion, the left side of the aisle quickly became eerily silent. After hearing such a moving, heartfelt, and inspiring story of life, why wouldn't they want others to have the same chance as Ellie?
Trump concluded his speech with a moving tribute to American history, legacy, and spirit, inspiring all that were watching with a message of hope and expectation for our future as a nation. Although the State of the Union Address was authentic, impactful, and veracious throughout, what hit home for me was when President Trump said: "America is the place where anything can happen. America is the place where anyone can rise. And here, on this land, on this soil, on this continent, the most incredible dreams come true."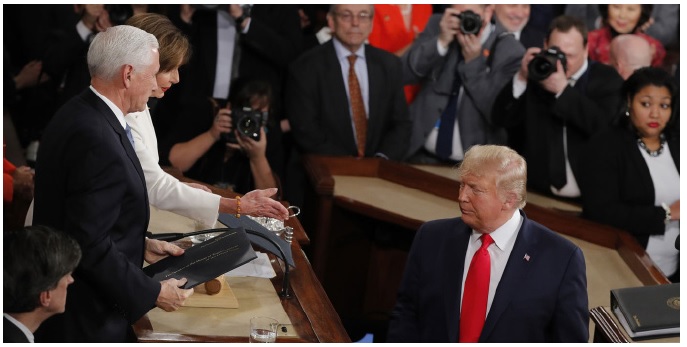 As President Trump ended his speech by saying "Thank you. God Bless You. And God Bless America," Speaker of the House Nancy Pelosi immediately stood up, and in a premeditated move, repeatedly ripped the speech in half. By doing so, she ripped to shreds powerful American stories. The Tuskegee Airmen [RIPPED]. Military family reunions [RIPPED]. Honoring Gold Star families [RIPPED]. Child healthcare successes [RIPPED]. The Presidential Medal of Freedom [RIPPED].
Do we continue moving forward to make America great together, or follow the lead of the Speaker of the House, who continues to divide us?
Counterpoint: Trump Needs to Stick to the Facts
THE President's third State of the Union was riddled with inaccuracies, and that should worry all of us. Whether or not you agree with this President's policy positions is now irrelevant. I didn't support Trump in 2016, but that doesn't mean I don't wish him success. If he really accomplished all he said he did in this past State of the Union, that'd be a wonderful thing for this country. But the unfortunate truth is, he didn't.
Let's talk about the economy. President Trump, per the Washington Post, has claimed to preside over 'the strongest economy ever" about 260 times and repeated that claim during his address.
That tracks — the economy is so electorally important to Trump that most pundits suggest his re-election chances hinge solely on continued economic success.
But by what measure is the economy "the best it has ever been"? Not by unemployment, which was two points lower in 1953; not by annual growth rate, which was more than two and a half points higher from 1997 to 1999 and more than six points higher in the 1950s; and not by job creation, which was higher under Obama's last three years than it has been under Trump.
Even if there is some miracle metric that manifests an historic economy, how exactly is this President responsible for it? He claims to have "move[d] rapidly to revive the U.S. economy … [by]… enacting historic and record setting tax cuts." But just how historic have his tax cuts been? Turns out in the past century, seven other tax cuts have been larger, including five under Democratic presidents.
The President has much to celebrate when it comes to the economy, yet he still refuses to be truthful. There were dozens and dozens more misleading statements that I don't have the space to list, but you don't have to take my word for it: NPR and the Associated Press, as well as countless other reputable organizations, have thoughtful fact-checking and analyses easily accessible online.
The viral moment of the State of the Union, however, did not come from President Trump, himself. On camera, during the applause at the end of the speech, the Speaker of the House Nancy Pelosi (D – CA 12) ripped up a copy of the transcript. Call it petty, call it incendiary, call it whatever you'd like — the point is we're all talking about it. Instead of news segment after news segment of endless praise for Trump, there's been endless coverage of that singular moment.
It was petty, it was incendiary, and it was brilliant.