National Honor Society Inducts 77 New Members
The National Honor Society Class of 2018 was inducted last Thursday night in one of the largest inductions with 77 new members. Honored guests included Mr. Peter Goumas, our keynote speaker, and honorary inductees, Ms. AnnMarie McLeod, Mrs. Donna Lieval, Mrs. Melanie Cassels, Mr. John Ciavara, and Mr. Patrick Moriarty. All of the honored guests were selected by the membership for their excellent teaching and contributions to Brewster High School. It was a night of celebration honoring the accomplishments of the National Honor Society Class of 2017, as well as the accomplishments of the newly inducted members.
After a rigorous application process, community service, leadership roles, and years of being scholars, the inductees earned their spots in the National Honor Society.
The ceremony began with a presentation of the flag and the Pledge of Allegiance from ROTC Executive Officer Amelia Cuomo. During the welcome speech, NHS president, and this author, Mary Heath reflected on the past accomplishments of the current membership of NHS. In the past year, the NHS Class of 2017 raised $600 for Putnam CAP, $471 for the American Heart Association, volunteered at the annual Blood Drive clinic, and participated in four different tutoring initiatives, on top of the normal NHS activities such as volunteering at school events and baking for teachers during parent teacher conferences or for the NHS board.
This year's officers of NHS, treasurer Brendan Feehan, secretary Alex Johnson, secretary Cassidy Groz, and publicist Dan Moran, talked about the five key qualities of the National Honor Society; knowledge, service, scholarship, character, and leadership. In their applications, this year's inductees proved that they embody these qualities and will use them to better Brewster High School and the Brewster community as a whole.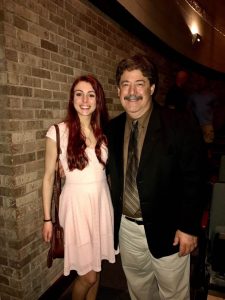 The most enjoyable section of the program was the honorary induction of Mrs. Cassels, Mrs. Leival, Mr. Ciavara, Ms. McLeod, and Mr. Pat Moriarty. Laura Morini spoke of Mrs. Cassels' constant commitment to her students as well as her service as the NHS advisor before Ms. Racic assumed the position. Mrs. Cassels will be retiring this year and will be greatly missed by the students of BHS. Dan Moran added humor with his introduction of Mrs./Sra. Leival who is also deeply committed to her students. In Georgia Borchert's speech about Mr. Ciavara, she talked about his dedication to his students. Mr. Ciavara will also be retiring this year and will be deeply missed. Amber Krisch gave a moving speech about Ms. McLeod which showed just how important she has been to BHS. Georgia used quotes from students and faculty members about Ms. McLeod. Julia Borsari introduced Mr. Moriarty, affectionately known in BHS as "Pat the Janitor." Her speech perfectly captured the gratitude the students of BHS have for Pat. The NHS Class of 2017 was proud to induct Mr. Moriarty, who so deserved this honor for his service and commitment to Brewster High School. Mr. Goumas served as this year's keynote speaker and gave sage advice to the newest members of NHS as they enter their senior year.
The members of The National Honor Society would like to thank the Board of Education, Dr. Henning-Piedmont, Ms. Gosh, Mrs. Horler, Mr. Stack, Mrs. Cassels, Mrs. Leival, Mr. Ciavara, Ms. McLeod, Mr. Pat Moriarty, Mr. Goumas, and a special thank you to Ms. Racic from the NHS Class of 2017 for serving as their advisor this year. Congratulations to this year's inductees, the National Honor Society Class of 2018. Good luck in all your endeavors for next year.
The National Honor Society Class of 2018 Inductees: Susan Adeyeye, Matthew Amodeo, Isabella Ayala, William Banks, Stephanie Boudreau, Brianna Bray, Brendan Brooks, Michael Buonadonna, Teresa Carlin, Angelo Casale, Danielle Castellano, Noelle Castro, Michael Charbonneau, Francesca Cioffi, Erin Clark, Jamie Coghlan, Sarah Comer, Manuel Costales, Grace Coughlan, Samantha Curley, Victor Diaz, Nicholas DiDio, David DiMinno, Aidan Elsroth, Fehintola Falana, Paul Farrell, Leah Frey, Benjamin Furu, Kaitlin Gaglio, Mary Galgano, Autumn Gerard, Joseph Greco, Cecilia Guida, Dylan Gusler, Grace Harrison, Connor Henderson, Jaclyn Higgins, Erik Jacobsen, Olivia Jaspers, Elise Jordan, Karen Kimble, Erin Kirkpatrick, Ryan Lenahan, Sophie Lester, Julie Lewis, Maxwell Likens, Diana Limitone, Louis Martin, Colin Matthews, Aidan McArdle, Christopher McCarthy, Brian McKee, Carly Mengler, Kayanne Monti, Fernando Mora, Keegan O'Connor, Arianna Ostojic, Matthew Panagrossi, Grace Pastore, Tara Regan, Taylor Riccardi, Angela Rivera, Sofia Rivera, Jason Roy, Gabriella Rueda, Matthew Rutledge, Bridgette Sonok, Leah Santalis, Samantha Saumell, Nina Shilling, Kevin Stefanick, Ian Strahley, Samuel Tascione, Julie Tramontana, Nathan Whitney, and Ying Zhang.