NBA Superstar Kyrie Irving, the NBA, and the Vaccine Mandate Are All on a Collision Course
Vaccine hesitancy and personal rights hit the NBA where it hurts
Even though the 75th NBA season is well underway, this season was shrouded in controversy before it even started, more specifically, the NBA and the COVID-19 Vaccine. At this current moment, Los Angeles, New York City, and San Francisco have required all its civilians who enter any private buildings and venues in general to be vaccinated. This rule affects not only citizens of these cities, but more specifically, the NBA and its players. 5 NBA Teams play in these cities: The New York Knicks, Brooklyn Nets, Los Angeles Clippers, Los Angeles Lakers, and the Golden State Warriors. In short, these cities require that their entire organizations must be vaccinated in order to play their home games. This issue became the hot topic entering media day for the NBA. When the season was starting, 8 NBA teams announced that they were 100% vaccinated, while the rest were close to compliance. One team in particular, the Brooklyn Nets, made headlines as one of the 15 players on the Nets roster was heavily scrutinized for his stance on the vaccine mandate: 7 Time All-Star, 2016 NBA Champion, and Former 2011 First Overall Pick, 29-year-old Kyrie Irving. Irving is the only member on the Nets who is currently unvaccinated.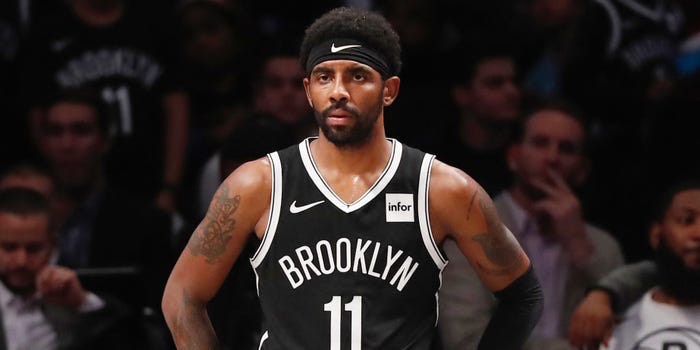 This instance is not the first time Irving has been in controversy during his time in the NBA. Back in 2017, he stated, "This is not even a conspiracy theory, The Earth is flat." Irving has also "gone off the grid" multiple times in his career where no one in the entire organization knew of his whereabouts. This year, when asked about the vaccine and his choice to not get it, he stated, "Please just respect my privacy. All the questions leading into what's happening, just please. Everything will be released at a due date once we get this cleared up."
On October 12, Brooklyn Nets general manager Sean Marks released a statement regarding Irving's availability and his personal choice. Marks stated, "Given the evolving nature of the situation and after thorough deliberation, we have decided Kyrie Irving will not play or practice with the team until he is eligible to be a full participant. Kyrie has made a personal choice, and we respect his individual right to choose. Currently the choice restricts his ability to be a full-time member of the team, and we will not permit any member of our team to participate with part-time availability." Marks' ruling for Kyrie to not play until he is vaccinated is detrimental for the Nets and the NBA. The Brooklyn Nets are one of the league's best teams, with notable talents of James Harden and Kevin Durant. Without Irving, this makes Brooklyn's goal to be NBA champions a much more daunting task than it already was.
It also doesn't help that Irving may not change his decision. The day after Marks' statement, Irving spoke on Instagram Live, stating, "This is about my life and what I am choosing to do," referring to his decision to not take the COVID-19 vaccine. "The financial consequences, I know I do not want to even do that," Irving said. "But it is reality that in order to be in New York City, in order to be on a team, I have to be vaccinated. I chose to be unvaccinated, and that was my choice, and I would ask you all to just respect that choice." According to ESPN Front Office Insider Bobby Marks, Irving will lose $381,181 for every game that he misses. With him projected to miss all of the 82 game NBA season, that totals up to a whopping $31,256,842, not including the NBA Playoffs, assuming the Nets qualify.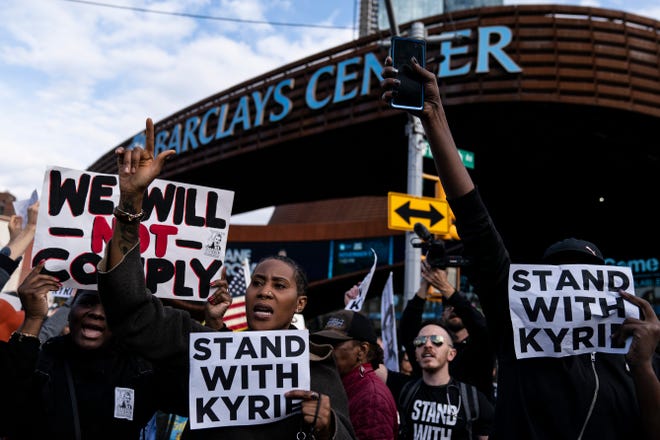 But this is not the end of the drama. On October 25, 2021, a number of protesters against the vaccine mandate gathered in downtown Brooklyn right before the Nets matinee home opener against the Charlotte Hornets at the Barclays Center. These protesters chanted "Let Kyrie play" and "Stand with Kyrie" outside of the arena before the game. The protests started civilly, before turning aggressive. Some protesters broke through the barricades set up by security, who then had to rush to protect the doors. One protester even picked up and threw a barricade at a security officer. At one point, security had to lock down the building to prevent fans from entering the arena. Eventually, security was able to get it under control and resumed allowing fans with tickets to enter the venue. Irving may not have incited these protests, but his platform and his fanbase that supports him did, which is not a good look for someone who wants to "speak for the unspoken."
The NBA and the vaccine mandate controversy will not be going away in the near future. With other popular basketball players also not taking the vaccine, it will be very interesting to see how the organizations, players, and the league itself handles this situation as the NBA season moves forward.