PS5 vs. Xbox Series X/S: How Will You Play?
Which one of these brand new consoles is the right one for you? How can you even tell? Read our full investigation!
With the holiday season having just recently left us, and as we've now ushered in a brand new year, you may have found yourself in possession of one of these brand new consoles. If you aren't a part of those lucky few that snagged the console above all the scalpers and resellers, you may be currently debating which one to get, or you may be contemplating whether you made the right choice. Lucky for you, I'm here to help.
First, some history about these consoles. In the early 2000s, when Microsoft first threw their hat in the ring in the earlier console wars of Nintendo vs. PlayStation vs. Sega, Microsoft introduced their own revolutionary game console, simply named the Xbox. What followed through the late 2000s, all through the 2010s, and up to where we are now, is a depiction of two titans clashing. The debates of the PlayStation 2 vs. the original Xbox, the PlayStation 3 vs. the Xbox 360, the PlayStation 4 vs. the Xbox One, all lead us to where we are currently: the PlayStation 5 vs. the Xbox Series X/S.
The PS5 released on November 12th, 2020, with the Xbox Series X/S releasing just two days prior, on the 10th. At release, the PS5 launched with two editions: a standard edition, with a 4K UHD Blu-ray disc drive, costing $499, and a cheaper alternative without the built-in disc drive, named the PS5 Digital Edition, at $399. The Xbox launched similarly with a standard edition Xbox Series X at $499, and a smaller, cheaper, digital-only alternative, the Xbox Series S, at $299. Both standard and digital-only versions of the respective consoles work identically to each other, with the only major difference and selling point being that the cheaper alternative lacks a disc drive (meaning that physical games cannot be used and must be purchased through the console's respective in-game store, thus using the console's internal storage to store the games) which drastically reduces costs and size of the console. This practice of removing a disc drive in order to reduce costs has been seen much more frequently with Sony and Microsoft releasing various variants of digital-only PS4s and Xbox Ones in the past few years, as well as other competitors like Nintendo opting for small cartridges for their Nintendo Switch and 3DS, and Google's attempt at the game industry, the Google Stadia, opting for an all-digital approach to gaming. Even with all this knowledge, it still might be difficult to make a decision on what console to get.
Let's compare:
I've provided a chart (below – Source: deleted Reddit account on r/xboxone) detailing the key difference regarding internals of the PS5 and Xbox Series X/S. Even with a limited knowledge of how the internal parts of these consoles work, it's easy to tell right off the bat that the Xbox is a significantly stronger console overall, even being advertised as the strongest video game console ever made, and for good reason. There are various points when you compare the Xbox to the PlayStation where you can see that they aimed for making the console itself better as opposed to the experience that it can provide, a point that feels paper-thin when compared to the PlayStation. Sure, it may have more storage and better processing power, but the console falls flat for one major reason that could easily be fixed: the console's launch.
Out of the gate, the PS5 launched with Spider-Man: Miles Morales, a highly anticipated sequel to Insomniac Games' heavily acclaimed PS4 (simply titled) Spider-Man. The console also launched with NBA 2K21, the NBA's yearly basketball title, as well as Astro's Playroom, a sort of demo-reel that comes pre-installed on your console. These games alone were enough to entice millions of casual and seasoned gamers to pre-purchase, pre-order, scalp, and camp out for the console. On top of all these games, Sony also offered the PS Plus Collection, a benefit for PS Plus members (Sony's online paid subscription service) which gives PS5 owners access to 20 of the PS4's greatest titles including God of War, The Last of Us: Remastered, Persona 5, and Resident Evil 7: Biohazard. Despite knowing that their console was ever so slightly lacking in raw power compared to the Xbox, Sony knew to smother their new console owners with amazing games to enjoy with their brand new system. This is where the Xbox fell flat.
The Xbox launched with ZERO exclusives, as opposed to the PS5's FIVE launch title exclusives. The Xbox's launch relied heavily on the console's own power as well as the console owner's backlog and previously owned Xbox One and compatible Xbox 360 games. Initially, the Xbox's launch was going to be carried by the much anticipated Halo: Infinite, but after various showcases displaying the game and its contents, as well as a recurring meme poking fun at the game's poor quality of a Brute enemy dubbed "Craig" (pictured),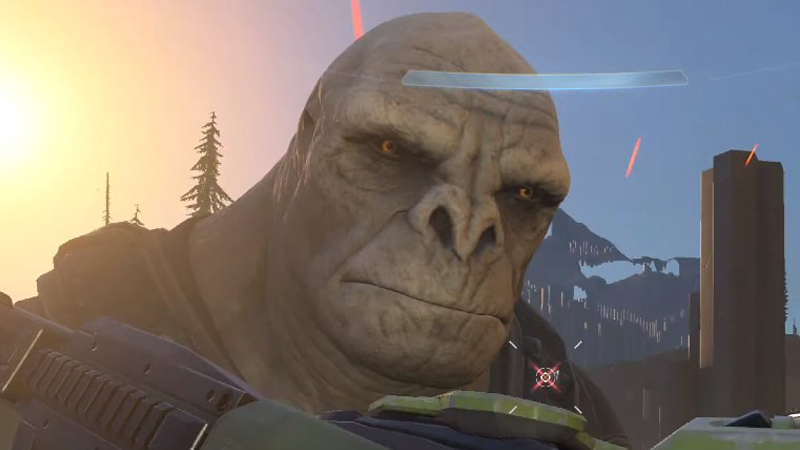 Halo: Infinite was delayed until an undisclosed 2021 release date, removing the Xbox's one launch title exclusive altogether. Of course, it isn't all bad. Like I mentioned before, the console's launch relied heavily on the owner's own games as well as their own paid subscription service, the Xbox Game Pass. The game pass offers hundreds of amazing games, such as The Witcher III, Minecraft, Sea of Thieves, and Rainbow Six: Siege, as well as various other triple-A titles for just $15 a month.
Still not convinced?
If all this still wasn't enough to convince you, I sought out owners of these consoles within our own school and community in search of answers. I reached out to Dan Ramos, a junior here at BHS, and Victor Diaz, a BHS graduate. I asked both of them questions about the PS5 and Xbox, respectively, in hopes of providing you all with answers straight from the consumer to help you decide what to pick.
Dan Ramos, PS5 owner:
Q: When did you buy the console?
A: I bought it on September 16th, the day the price and release date got announced. It was a pretty chaotic preorder launch; it was supposed to be available to preorder the following day, but many retailers jumped the gun and released it that night.
Q: How did you manage to get it?
A: I was able to stay up until midnight for the Amazon launch because they were the only retailer to release it at the right time. But a link came up on Twitter 10 minutes before midnight, which led to a secret page in the Amazon stock system which allowed me to put it in my cart right away.
Q: What game(s) did you get with the console?
A: I got Spider-Man: Miles Morales, Demon Souls, and the free games included with PlayStation Plus, like God of War and Persona 5.
Q: Have you taken advantage of the console's backwards compatibility?
A: Absolutely. All of my old PS4 games have been working great with the console. I've been playing a bit of Persona 5 which came free with the console, and it works great.
Q: Do you feel like you got your money's worth?
A: While of course there's a small library of games at the moment since it just launched, and the fact that game studios are still trying to keep up due to the pandemic, I think the PS5 is still a very worthy buy, and I'm glad I was able to claim it at launch.
Victor Diaz, XBX owner:
Q: When did you buy the console?
A: I bought the console back in mid-December, so about a month and a half after they released. And I have had it now for about 2 months.
Q: How did you manage to get it?
A: I went to drop my dad off at work on that day and then went straight to a GameStop since they were promoting a "limited" release in stores, and I saw some prominent Twitter handles tweet out that this release was going to happen. I was out in the line for about 2 hours until I FINALLY got in and got my hands on the Series X.
Q: What game(s) did you get with the console?
A: Unfortunately, they only had bundles available. So I got both Call of Duty: Black Ops Cold War and NBA 2k21 with the bundle. And since I became a broke college student at that moment, I did not buy any more specific XSX games. And (I will mention) there is a somewhat lackluster game lineup for specific Xbox Series X games. I am waiting on games such as Cyberpunk 2077 and Halo: Infinite to come out on the console (also excited for MLB: The Show 21 to come onto Xbox!). But with the backwards compatibility and my already existing library of games, I have over 100+ games to choose from, which is plenty enough for me right now.
Q: Have you taken advantage of the console's backwards compatibility?
A: I have 100% been able to take advantage of the console's features! It has been super handy since I don't have many specific XBX games. A few games I already owned actually came with a free upgrade (to the XBX version) and others (even without the updates) are MUCH QUICKER, better looking graphics, and so much smoother compared to running the game on the Xbox One X (my last console).
Q: Do you feel like you got your money's worth?
A: While I did get a bundle and definitely paid a little more than the base cost, the purchase has been worth it! Yes. Absolutely. The features and the quickness/responsiveness of the console are a leg up compared to what I previously had. The Quick Resume feature on the Series X is AMAZING; bringing me between games in a matter of seconds and allowing me to get RIGHT into the game, wasting no time loading. Also the games (regardless of being XBX or previous gen games) are SOOO BEAUTIFUL and take full advantage of my 4K monitor I bought a while ago!
Final verdict: PlayStation 5
I feel as if I can't provide an educated enough verdict on which is the better of the two systems without owning the consoles themselves, so I appreciate the answers I got from my two interviewees. Although, I feel that with all of this information, I myself could decide easily which one I would pick.
If I were on the fence and had to choose between processing power or various amazing games, I'd opt for the great games any day. The PS5's amazing library, amazing controller, and overall quality give it the leg up over the beefy console that the XBX is. Even with the cut cost, I would still choose the digital-only PS5 over a digital-only less costly XBS. In the end, it's all up to you. If you still aren't convinced, or maybe you're teetering more towards a much cheaper and more casual console like the Nintendo Switch, or you've been eyeballing a brand new gaming PC or laptop to get the best of both worlds, that's okay! Spending hundreds of dollars on something for your enjoyment you're unsure about can be a daunting task and a difficult choice to make. What matters most is that you have fun and at the end of the day, it's all about how you play.