Metro Award Nominations Make it a Jolly Holiday for BHS's "Mary Poppins"
For this year's Metro Awards, the BHS production of "Mary Poppins" did amazingly well with 9 nominations. The Metros are an awards ceremony for local musicals, similar to the Tony's, that is sponsored by LoHud and serves the Westchester/Putnam area.
The musicals are watched by a representative of the organization, and he or she notes all the great things seen. Categories like best actor/ actress, crew, dance number and costume design are some of the awards a show could win, not to mention for all of the promotional artwork and construction put into the musical.
For most, this was their first time being nominated by the esteemed group. So much work was put into this particular show, and every nomination was well earned.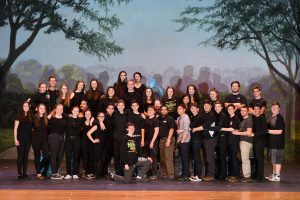 The 2017 Metros are being held on Monday, June 12th, with the cast and crew reprising their performance of "Supercalifragilisticexpialidocious" to a live audience.
Here are the nominations:
Outstanding Overall Production
Actress in a Leading Role – Megan Campbell (Mary Poppins)
Actress in a Supporting Role – Erin Vaughan (Winifred Banks)
Actor in a Supporting Role – RJ Frankenberry (Bert)
Cameo -Martina Rossi (Bird Woman)
Child Actor – Brooke Ryan (Jane Banks)
Stage Crew
Technical Merit – Erin Clark (Crew Chief) and Dominick Walch (Technical Director)
Best of luck to all the nominees!
All photos courtesy of 4sonsphotography